Press
Jimmy Kimmel as Don Draper on TV Guide Cover; John Slattery Is GQ's Man of the Year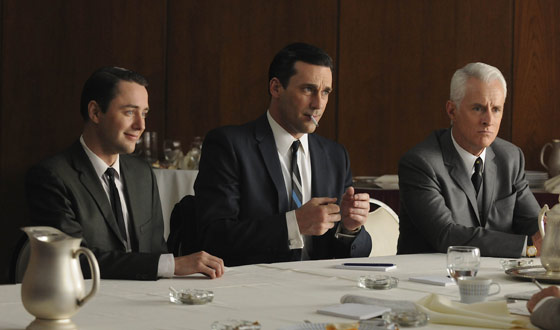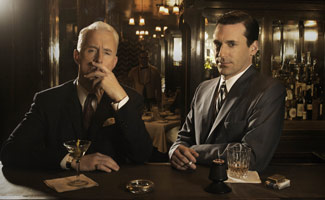 This week, Jimmy Kimmel does his best "Don Draper" for TV Guide's Emmy feature, while John Slattery takes home one of GQ's highest honors. Plus, check out video and photos of Jon Hamm helping to raise money for his St. Louis high school. Read on for more Mad Men news:
• Jimmy Kimmel channels his inner Don Draper to appear on the cover of TV Guide's Emmy preview issue.
• CBS News reports that John Slattery has received GQ's International Man of the Year Award.
• Jason Reitman casts Christina Hendricks (and Breaking Bad's Bryan Cranston) in a live reading of American Beauty at the Toronto International Film Festival.
• St. Louis' KSDK has a video and photos of native son Jon Hamm returning home to kick off a fundraising campaign at his alma mater, John Burroughs School.
• The Huffington Post speaks with Vincent Kartheiser about The Death of the Novel, a play he's currently starring in at the San Jose Repertory Theatre. Playbill chats with Kartheiser, describing him as "charming, content, and self-effacing." Kartheiser also talks to Stark Insider about the play and his distaste for social media.
• The Huffington Post considers Mad Men's Peggy one of TV's hardest workers: "She didn't have an easy start as a secretary at Sterling Cooper, but Peggy Olson (Elisabeth Moss) has certainly worked her way up on the '60s era drama."
• Comedian Richard Sandling has "Rickrolled" Mad Men, putting together a version of Rick Astley's "Never Gonna Give You Up" spliced from various Mad Men episodes.
• Don Draper is No. 2 on Columbus (Ohio) Alive's list of TV's anti-heroes: "Such an amazing character! But a nice guy? No so much."
Read More