Interviews
Q&A – Teyonah Parris (Dawn)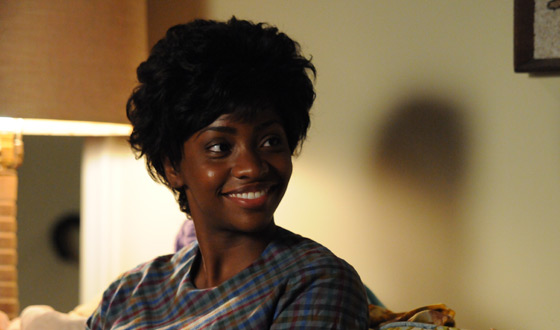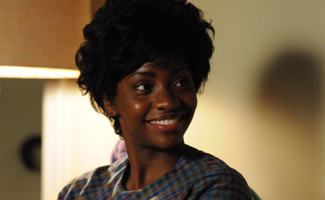 Teyonah Parris, who plays Dawn on AMC's Mad Men speaks to AMCtv.com about being the new girl on set and how Jon Hamm was her own personal Don Draper.
Q: Dawn is the "new girl" at SCDP, and you were the "new girl" on the Mad Men set. Were you as cool, calm and collected as your character?
A: I'd like to think I was pretty cool about it. I was freaking out on the inside [laughs], but I don't think that came out.
Q: What did you know about the role when you first auditioned?
A: The only thing the breakdown said was, "African-American, mid-twenties, and co-star" — and that's probably about it. My team actually called and told me about it, but I was supposed to be heading out of the country so I didn't think I should go in for it. I thought the dates might conflict. I went in just thinking it was a very small part. I could have been opening a door for all I knew. I had no clue.
Q: What was it like to be SCDP's first major black hire?
A: I'm excited that the office has started to integrate and explore what that is for those characters and what that means to them in their lives… There are just so many possibilities. The show is already amazing and touches on so many issues for that time period. I just think it's great that they're adding this whole other layer now.
Q: Jon Hamm was present during your callback, then directed you in your first episode. What was that like?
A: I was not expecting that! Jon as a director was great; he made me feel comfortable. He ushered me in as the director, but also as Don, the character, ushering Dawn in. It was really cool how that dynamic paralleled within the story and in our own lives.
Q: You weren't even born when your character appears. Did you research the struggles of black women during this time period?
A: I definitely wasn't around, so I did talk to my grandmother. My grandmother actually pretty much was this girl. She was working in Manhattan at this time and I asked her what it was like. Just like Dawn, it was one woman's story — my grandmother's story. I'm sure there are many other versions of that story out there.
Q: Dawn gets to see a conflicted side of Peggy that most of the other characters don't even know exists. What was it like to shoot the scene in Peggy's apartment?
A: It becomes a really awkward moment for Dawn and Peggy, so having to stay in that as the character — I had to make sure I stayed there because Teyonah and Elisabeth [Moss] weren't that. Just making sure the uneasiness and tension that comes in that moment was always there, take after take.
VIDEO: Inside Episode 4, "Mystery Date"
Q: Do you see any similarities between Dawn and the other women of Mad Men?
A: While the other characters have to tip-toe around because they're women, Dawn has to tip-toe around, in a sense, for being a woman and because she's black. She's coming in with completely different circumstances. I don't really think she is like anybody else.
Q: You actually appear in most episodes this season. Did you bond with anyone in particular in the cast?
A: I think Ben Feldman, who came in as Ginsberg. We both were new to the staff and I was on set with him a lot. He and Jessica Paré. I had some good conversations with them.
Q: You've done beauty pageants and modeling, so you know clothes. What was the costuming experience like on Mad Men?
A: That was so much fun! Picking the hair that Dawn would have was a lot of fun. We tried on maybe four or five different wigs, and the costumes were beautiful. You can see that even for someone who doesn't have any money, like Dawn, Janie Bryant still does a great job of making her look good.
Click here to read an interview with Elisabeth Moss, who plays Peggy Olson on AMC's Mad Men.
Read More