Press
NY Post on 'The Draper Effect'; NY Mag, THR and Variety Feature Jared Harris' Emmy Nomination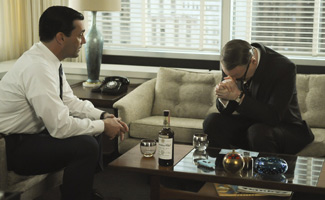 This week, the New York Post coins a fashion term around Mad Men while Jared Harris' Emmy nomination gets coverage (and high praise) from several major media outlets. Read on for more Mad Men news:
• The New York Post examines "The Draper Effect," or Mad Men's influence on fashion: "You dress for the job — or woman — you want, and not for the one you have."
• Jared Harris tells New York Magazine that his favorite Season 5 episode was "Signal 30" because of Lane's "too-brief moment of triumph" punching Pete.
• Variety praises Jared Harris for his Emmy-nominated portrayal of Lane revealing "an undercurrent of ferocity that also spoke to something sad, broken and unable to cope." The Hollywood Reporter opines, "If Emmy voters overlook [Jared] Harris' subtle, startling performance, then shame on them."
• In a roundup of supporting actress Emmy nominees, Variety compliments Christina Hendricks' performance in Season 5's "The Other Woman."
• Ben Feldman speaks to The Hollywood Reporter about his Emmy nomination and his favorite Mad Men moments, including Ginsberg's "alien speech" in Season 5, Episode 6, "Far Away Places."
• Jared Harris tells Zap2it that he "kept having to resist the urge to break into a Monty Python song" while hanging from the door in his last episode.
• Details speaks with Vincent Kartheiser about his character's evolution — while Kartheiser gets his hair cut.
Read More