Press
Jon Hamm Reveals Favorite Episode to NY Mag; Elisabeth Moss Talks Peggy's Exit With THR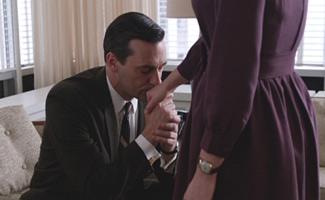 This week, Jon Hamm tells New York Magazine why "The Other Woman" was his Season 5 favorite, while Elisabeth Moss discusses Peggy's resignation scene with The Hollywood Reporter. Read on for more Mad Men news:
• Jon Hamm discusses his favorite Season 5 episode, "The Other Woman," with New York Magazine and shares his opinion of Joan's controversial decision.
• Elisabeth Moss speaks with The Hollywood Reporter about Peggy's resignation scene: "It would've been so easy to have it be tears and trauma and music, but it's so simple, almost over before you know it."
• Variety examines each of the best drama Emmy nominees, including Mad Men. Meanwhile, The Hollywood Reporter assesses each nominated drama's chances of winning, noting that Mad Men "offered a stirring, often-quirky and offbeat mix of stories." [No Link]
• Deadline points out that a Mad Men best drama series Emmy win next month would be a record-breaking fifth in a row.
• Variety looks at major character deaths on the Emmy-nominated drama series, such as Lane Pryce's suicide on Mad Men.
• The Hollywood Reporter speaks with Semi Chellas, Andre and Maria Jacquemetton, and Matthew Weiner about their Emmy writing nods. [No Link] Variety spotlights the Emmy nominees for best writing for a drama series.
• Variety talks with Matthew Weiner about the role of "theme" in storytelling.
• Emmy-nominated Ben Feldman confesses to The Hollywood Reporter he never knew if he'd appear in another episode. [No Link] Feldman speaks to FOX's Good Day LA about how Ginsberg's wardrobe has affected his clothing choices. Feldman also tells Variety he feels "like a rookie" in the Emmy race. The Los Angeles Times also catches up with Feldman, who compares Jon Hamm the person and Jon Hamm the actor.
• The Hollywood Reporter recognizes Julia Ormond as an Emmy-nominated guest star that deserves to stick around on Mad Men. [No Link]
• Variety highlights Phil Abraham as an Emmy nominee for best directing for a drama series. Shoot speaks with Abraham about his directing career and Emmy nod for Season 5's "The Other Woman."
• Christina Hendricks praises Janie Bryant in People: "She's amazing. She's extraordinarily talented, meticulous, creative, and also a good friend."
• Jessica Paré talks to Vogue about Mad Men's influence on her personal style [No Link] The Vogue website features Paré in a video for Fashion's Night Out's charity event.
• Entertainment Weekly reveals that Jon Hamm will voice a talking toilet in a third-season episode of FOX's Bob's Burgers.
• You'll find Christina Hendricks on the big screen at the New York Film Festival (Sept. 28-Oct. 14) in Ginger and Rosa, according to Entertainment Weekly.
• The Hollywood Reporter cites Alison Brie as an example of a TV star who could make it big in the movies.
• WhatCulture looks back at Mad Men's five seasons and wonders "exactly how far Don Draper has changed."
• Vincent Kartheiser talks to the San Jose Mercury News about the pleasure of being on stage again in "The Death of the Novel" at the San Jose Rep. Broadway World has more details of the production.
• TVLine reports that John Slattery is joining the cast of Arrested Development.
• Jon Hamm tells The Philippine Daily Inquirer why he'll never be a writer: "I can't sit and stare at a blinking cursor for longer than 30 seconds."
• Christina Hendricks discusses the art of hosting a party with AskMen.
• The Huffington Post reports that Patrick Fischler (Jimmy Barrett) will appear in Season 2 of ABC's Scandal.
• The Irish Film and Television Network reports that Jessica Paré is playing the female lead in Standby, a movie that's shooting in Dublin and Luxembourg.
Read More