Press
Matthew Weiner, Christina Hendricks Talk 'The Other Woman'; Jon Hamm on Sesame Street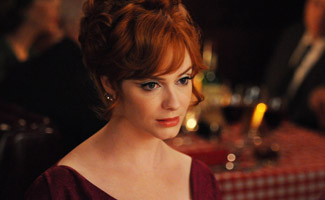 This week, Matthew Weiner and Christina Hendricks break down five of the "most indelible sequences" in "The Other Woman" for The Daily Beast, while Jon Hamm is set for a visit to Sesame Street. Read on for more Mad Men news:
• Matthew Weiner and Christina Hendricks talk to The Daily Beast in a two-part conversation about Season 5's "heartbreaking" Emmy-nominated episode, "The Other Woman."
• USA Today reports that Jon Hamm will guest-star on Sesame Street's upcoming season, including a sneak peek photo of Hamm with Elmo.
• Rolling Stone has video of Jessica Paré singing onstage with Jesus and Mary Chain at a stop on their North American tour.
• The Los Angeles Times profiles Christina Hendricks, pointing out her "casual, often mirthful grace and, underneath that, an unpretentious braininess."
• Kiernan Shipka talks to People about her German shepherds, Bunny and Rosie.
• Variety speaks with Emmy's hairstyling nominees, including Mad Men's Theraesa Rivers.
• According to AllThingsD, Jon Hamm appears in an instructional video for The New Yorker's new iPhone app.
• The Huffington Post suggests that audiences tuning in to Breaking Bad and Mad Men might be why they're staying home from the movies.
• The Hollywood Reporter reports that John Slattery has joined the voice cast of Dishonored, a first-person action video game. Gaming Age has more details on the project.
Read More