Press
Variety on Mad Men's Cultural Impact; Video of Jon Hamm's Surprise Cameo on The Daily Show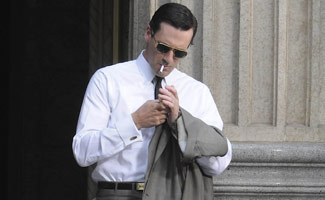 This week, Variety spotlights Matthew Weiner and Mad Men's influence on social trends, while Jon Hamm makes a cameo to promote The Campaign on The Daily Show. Read on for more Mad Men news:
• Variety includes Matthew Weiner in a showrunners round-up, highlighting Mad Men's cultural influence: "It's inspired a cocktail renaissance, Banana Republic clothing line, limited-edition Barbies and the 'draping' craze. Even President Obama is a fan." (No Link)
• Check out Entertainment Weekly to watch a video of Jon Stewart calling in Jon Hamm for comedy reinforcement on The Daily Show.
• E! Online creates a photo gallery to examine each of Mad Men's 17 Emmy nominations. Meanwhile, viewers can cast their own votes for Mad Men at the Gold Derby TV Awards.
• Matthew Weiner confirms to TVLine that Elisabeth Moss will definitely appear in Season 6 of Mad Men.
• Variety credits Christopher Manley, Mad Men's cinematographer, with giving the drama "a retro-fresh look and cinematic scope." (No Link)
• Jon Hamm jokes to New York Magazine about having an affair with The Campaign writer Chris Henchy and Hamm's willingness to play Chris O'Dowd's love interest.
• The Hollywood Reporter divulges the location where Matthew Weiner shot his film, You Are Here.
• Harper's Bazaar's "The Look" takes a peek into Kiernan Shipka's closet.
• Vincent Kartheiser tells the StarTribune that he's not often recognized when he's home in Minnesota. Mr Porter styles Kartheiser, who ruminates on Pete, noting, "He's perpetually unsatisfied, and that's a trait I share."
• The Toronto Star talks to Jon Hamm for an article about TV stars who also direct episodes. (No Link)
• Scott Hornbacher — profiled by his hometown paper, the Detroit Lakes (Minn.) Tribune — is pleased by the series' continued Emmy nominations: "It's remarkable to have such large scale support this far in the series."
• The Daily Blam showcases the cover art for Mad Men's Season 5 Blu-ray and DVD, which will be released on Oct. 16.
• Digital Spy's BBC drama trailer features Elisabeth Moss in the six-part series, Top of the Lake.
• According to Entertainment Weekly, Ben Feldman is returning to Lifetime's Drop Dead Diva in the Season 4 finale.
Read More