Uncategorized
Q&A – Robert Morse (Bertram Cooper)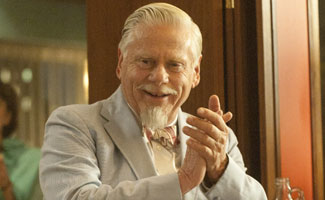 Robert Morse, who plays Bertram Cooper on AMC's Mad Men, speaks with AMCtv.com about taking secret naps on set and his thoughts on why Cooper doesn't have an office at SCDP.
Q: What is the significance of Bert Cooper not having an actual office at SCDP?
A: Not only does he not have an actual office, he never gets the girl. [Laughs] Everyone else has a date or is tumbling around from hotel room to another. Poor Bert, he sits in the corner and eats an apple and thinks about food… Because of the financial problems in the company, they had to cut down. They just didn't have room for everybody. And I think he sacrificed his office.
Q: Did you miss the old Sterling Cooper office?
A: I certainly do because I could go in there at lunchtime and take a nap. Now there aren't many places to hide while they're filming scenes in other rooms… There is a chance it might happen this coming season that I might get my own office. I could buy back my Rothko.
Q: Now that the show is well into the '60s, did costume designer Janie Bryant make any changes to Bert Cooper's aesthetic?
A: Bert is pretty staid and pretty much stays the same. He's very conservative and that extends to the costuming. I don't think [Janie's] going to start having Bert wear a bow tie with lights on it or anything like that. [Laughs]
Q: You've been on Mad Men for five seasons now. Are you still surprised by anything on the show?
A: What surprises me is that everybody has grown up. Kiernan Shipka, who started out as a six-year-old, is now a young woman. The women have become more beautiful and the men more handsome if that's possible. And the brilliance of Matthew Weiner and the writers, what they come up with season after season… I'm always shocked by that…it's remarkable.
Q: The writers have talked about how agonizing it was to kill off Lane. What was it like for the cast?
A: It was absolutely agonizing when we read that script. It was almost personal, and it was sad, I think, to most cast members because of our personal love for [Jared Harris]. Now, as far as the situation in the show, that's completely different because that's what makes the drama go. It was perfectly acceptable as far as I was concerned in the dramaturgy of this show.
VIDEO: Inside Episode 513, "The Phantom"
Q: You actually did some advertising and voice-over work on Madison Avenue in the '60s. Did that work inform how you play your character in Mad Men?
A: A lot of actors would do voice-over work and they'd go over to the East Side [of Manhattan] to all the places that are mentioned in Mad Men and audition… So I know a lot of what went on during that time. People come up to me and say… "'Could that have been?' And I say, 'Yes, I lived at that time.'"
Q: You starred in How to Succeed in Business Without Really Trying, which opened on Broadway in the '60s…
A: That was back in the early '60s and of course I was young and played Finch who started out as a window washer and who became chairman of the board. Last year, we went backstage with my son and daughter during the Tony season and met Daniel Radcliffe [who played Finch in the Broadway revival] and someone said, "Gee, you ought to come back and be in How to Succeed." … But I'd rather not because that's something I've done and I feel very close to it… I always like to do new things.
Q: How was lending your voice to the video game Prototype 2, which just came out?
A: My son was so excited. He was like, "Really, Dad? That's a really big deal." I said, "Do you know it?" And he was like, "Oh yeah…it is really popular. I'm so proud of you." So I'll have to go…on his birthday and buy it.
Q: Did you get any tips from Aaron Staton, who voiced the lead in the video game L.A. Noire?
A: No, but I think we both feel very proud that we were doing something in that business as an added attraction to just doing Mad Men. We were both like Don, like, "I'd like that account." It was nice to do a game. [Laughs]
Click here to read an interview with Aaron Staton, who plays Ken Cosgrove on Mad Men.
Read More