Press
Matthew Weiner Talks Emmys With THR; NY Mag Calls Season 5 "Amazing"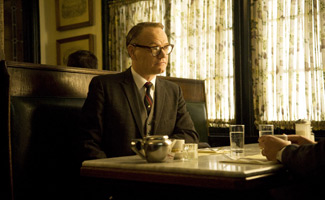 This week, series creator Matthew Weiner speaks in-depth about Mad Men's Emmy nominations with The Hollywood Reporter, and New York Magazine gushes over Season 5. Read on for more Mad Men news:
• Matthew Weiner discusses Mad Men's Emmy nods with The Hollywood Reporter, marveling that "we're the frontrunner or the show to beat."
• Handicapping the best drama Emmy nominees, New York Magazine describes Mad Men's Season 5 as "new-level amazing."
• TV Guide is "still waiting for Jon Hamm to get his much-deserved first Emmy" and is "jazzed" that Ben Feldman was nominated for his role as Michael Ginsberg. Feldman tells The Huffington Post that being on Mad Men was "intimidating, scary and amazing."
• Jared Harris tells CNN that he celebrated his Emmy nomination with a bottle of wine, noting, "It's still a bit of a shock actually." Harris also discusses some Season 5 scenes with the New York Daily News, including Lane's thwarted attempt at suicide.
• TV.com claims that if Mad Men loses the best drama series Emmy, "it will be the biggest shock of the night." As for the best actor race, TV.com says, "for the love of all things that are holy, Jon Hamm has been deserving of this award for at least three years."
• Canada's Postmedia News interviews Calgary's Semi Chellas, nominated for two best writing Emmys for episodes she co-wrote with Matthew Weiner. Chellas also speaks with The Canadian Press about her nominations.
• Entertainment Weekly reports that Jon Hamm will guest-star in an upcoming episode of the Adult Swim comedy Childrens Hospital.
• According to The Hollywood Reporter, Jared Harris has been cast in the film, The Mortal Instruments: City of Bones, based on the book by Cassandra Clare.
• According to Variety, Michael Gladis is starring in a sci-fi romance called Without Ward.
• Rich Sommer, currently performing on Broadway in Harvey, talks to The Plain Dealer about acting on stage.
• Shock Till You Drop has a report from the set of The Quiet Ones, which stars Jared Harris.
• Cinema Blend reports that Season 5 of Mad Men will be available on Blu-Ray and DVD on October 16.
Read More