Press
Mad Men Sets Emmy Record; Jon Hamm on Elisabeth Moss in the Huffington Post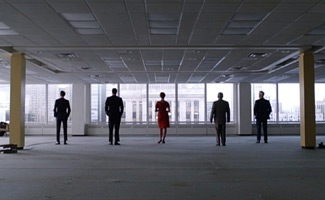 This week, Mad Men makes a splash with 17 Emmy nominations and one nominee (Jon Hamm) talks about a fellow nominee (Elisabeth Moss) in Huffington Post. Read on for more Mad Men news:
• The Associated Press reports that Mad Men's 17 nods tied with FX's American Horror Story for the most Emmy nominations this year. Declares the Los Angeles Times, "The Emmys are still mad about Mad Men." Matthew Weiner tells TVLine he loves "that we are five seasons into it and still getting nominated." The Washington Post notes that Mad Men is "poised to make Emmy history in September."
• Jon Hamm tells The Huffington Post that Elisabeth Moss is "such a talented performer" and has "incredible…gravitas." Hamm also speaks with Entertainment Tonight about his interest in directing and talks to TheInsider.com about the casting of Daniel Radcliffe as his younger self in A Young Doctor's Notebook.
• Jared Harris tells TVLine, "I couldn't have been more honored and even a bit overwhelmed when I heard the news" about his supporting actor nomination, while Ben Feldman (Michael Ginsberg), nominated for a guest actor Emmy, also speaks to TVLine, saying his nomination feels "surreal." Elizabeth Moss tells TVLine she's "proud of the show and my family on Mad Men."
• What's on Jon Hamm's iPod? The A.V. Club gets answers from the man himself.
• The second episode of Harper's Bazaar's new YouTube show, The Look, features Christina Hendricks.
• Deadline reports that Jon Hamm will guest-star on the next season of FOX's American Dad.
• Newsday talks to Vincent Kartheiser about shooting the film, Beach Pillows, which co-stars Geoffrey Arend (Christina Hendricks' husband).
• The Los Angeles Times gives Mad Men credit for bringing back the cat-eye look.
• Noah Wyle, of TNT's Falling Skies (and ER), tells Metro he's a Mad Men fan and thinks Roger Sterling is "pretty fantastic."
• Broadway World reports that production has begun for Very Good Girls, a film that includes Kiernan Shipka in the cast.
Read More