Interviews
Q&A – Aaron Staton (Ken Cosgrove)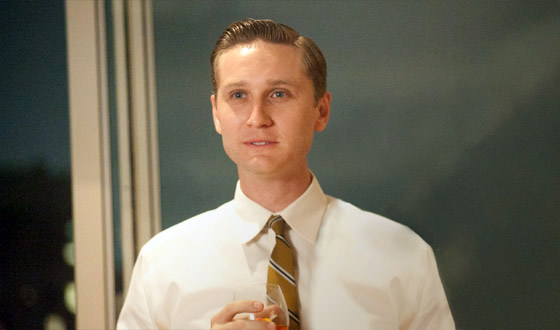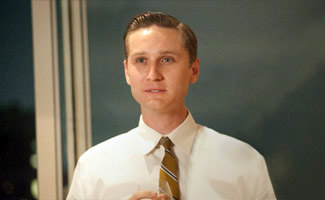 Aaron Staton, who plays Ken Cosgrove on AMC's Mad Men, speaks with AMCtv.com about uncertainty in life and Jared Harris' "dead body."
Q: Do you balance work and home life as well as Ken?
A: My wife and I are expecting our second kid any day now, and today I was like, I don't know if [this interview] is going to work because we had a doctor's appointment, but then I realized I had my coasts mixed up… But amongst the characters in the office, Ken is very different in that his ambitions, and his priorities lie outside those walls… I feel the same way that Ken does, but I live in 2012 where that's more commonplace.
Q: This season Peggy quit and Lane died. Do you worry about whether your character will survive?
A: Yes. [Laughs] But I think that's also realistic and it's a reality in any business. At the end of Season 3, when Sterling Cooper was dissolved and they began the new agency, even these characters dealt with that. I imagine that most people, whatever they do at any time in this economy or another, relate to that.
Q: Did you actually see anything when you were looking through the window into Lane's office where his dead body was hanging?
A: There was like a CPR dummy there, and I have to admit that the first time I looked over there it was a bit comical. [Laughs] We're looking over and are supposed to be horrified and it was a bit of a comical jolt.
Q: Did you have to do a couple of takes to get the right reaction?
A: I think I might have caused us to have to take a second take on that one, if I remember correctly… But it was good for all of us to be looking at something there and eventually I was able to be an actor.
Q: Were you there for the scene where Don pulls Lane off the back of the door?
A: The first time I'd seen it was a couple of weeks ago when it aired… It was tragic and fantastic, and very, very sad for the story and our experience there working… But I thought he did a very good dead body, that Jared Harris. It was very authentic looking, I have to say.
VIDEO: Inside Episode 5, "Signal 30"
Q: Ken has two pen names, Ben Hargrove and Dave Algonquin. What would your alter ego's name be?
A: I am completely on the spot, but of course I want to answer that… Ken came up with the second one pretty organically. The first one I think he wanted it to sound sort of like his name. [Laughs] But if I was as good a writer as Ken, my own name would be out there. I would want everybody to know that I wrote that.
Q: Season 5 was unexpected in so many ways…
A: With this show, you really get the opportunity to throw away all expectations and enjoy the ride because whatever you expect, there's a 99% chance it won't happen, or it won't happen the way you think it will.
Q: You've been with Mad Men since the beginning. How has doing the show changed over time?
A: So much has happened in my life along with the show… I met my wife after the first table read and now we're going to have our second kid… So much has felt like a dream, and I feel so fortunate that we have some time and story left. Sometimes I think that in life things end before you can realize how great they are, and fortunately we all collectively realize how special this is.
Click here to read an interview with Jared Harris, who plays Lane Pryce on AMC's Mad Men.
Read More