Press
Elisabeth Moss Talks With GQ and ET; NY Times on Don Draper Vs. Fifty Shades of Grey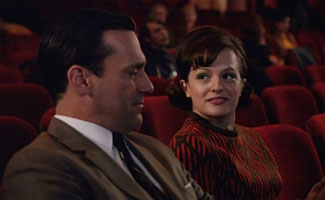 This week, Elisabeth Moss gets introspective about Peggy, while The New York Times examines Don's similarities with Christian Grey, the protagonist of Fifty Shades of Grey. Plus, Emmy chatter increases for the show and several of its actors. Read on for more Mad Men news.
• Elisabeth Moss shares her thoughts with GQ about shooting Peggy's resignation scene in Season 5, Episode 11, "The Other Woman." Entertainment Tonight speaks with Moss about Peggy's Season 5 story arc.
• The New York Times compares Don Draper to Christian Grey (of Fifty Shades of Grey) and Jay Gatsby (of The Great Gatsby).
• Speaking with Variety about how not every character appears in each episode, Matthew Weiner compares Mad Men to an orchestra: "You don't want too much drum, and you don't want too much flute. You want to make it a symphony."
• Entertainment Weekly talks to John Slattery about playing Roger on LSD: "It wasn't like I had to conjure up a state of mind. It was all right there in the script." Slattery tells the Boston Herald his favorite Season 5 episode was one he directed, "Signal 30," where Pete Campbell and Lane Pryce "get into that fabulous fistfight," and talks sports with The Boston Globe.
• In the U.K. to promote Friends With Kids, Jon Hamm talks about the movie and Mad Men with GQ, The Daily Telegraph, Digital Spy, Glamour and The Scotsman.
• TV Guide forecasts Emmy nominations for Mad Men (drama series), Jon Hamm (lead actor), Christina Hendricks (supporting actress) and Vincent Kartheiser and John Slattery (supporting actor).
• HitFix would put Elisabeth Moss on an Emmy ballot for best actress, citing the "superb work Moss does, episode after episode, season after season." HitFix also considered placing Jessica Paré on the ballot.
• TV Fanatic predicts a best supporting actor Emmy nomination for John Slattery.
• GoldDerby predicts that this year's best drama Emmy nominees could be comprised entirely of cable TV shows, such as Mad Men.
• Rich Sommer describes to New York Magazine a "mind-blowing" Restaurant Week meal he once ate.
• Kiernan Shipka tells GoldDerby she loves "whenever Sally gets to go to the office. I'm always really excited because I never really get to work with those amazing actors."
• Ben Feldman (Michael Ginsberg) shares with Variety his experience of being one of Mad Men's guest stars.
• Joan is one of The Tampa Tribune's favorite redheads, "a smart cookie who does what she has to do for her family."
• Wetpaint examines the most shocking TV character physical transformations, including Vincent Kartheiser gaining weight and shaving his hairline to play Pete in Season 5.
• ShortList features a piece of wisdom from Don: "You want some respect? Go out there and get it for yourself."
• According to The Hollywood Reporter, Michael Gladis has been cast in The Devil's Knot, a film that will also feature The Killing's Mireille Enos.
Read More