Press
Mad Men Season Finale Top TV Guide Moment; Jon Hamm Joins LA Times Emmy Roundtable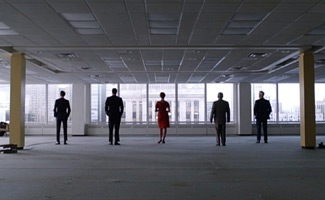 This week, TV Guide calls the Mad Men Season 5 finale "gorgeously filmed," and Jon Hamm joins past Emmy nominees and winners to discuss their craft. Plus, Emmy buzz heats up for the show and its cast. Read on for more Mad Men news:
• In its list of last week's top moments, TV Guide awards Mad Men the "Old Habits Die Hard Award" because "One thing the damaged souls of Mad Men know how to do is move on."
• At a Los Angeles Times Emmy roundtable of some past nominees and winners, Jon Hamm gives some advice for doing comedy: "Stand next to funny people, that's what I do."
• The Los Angeles Times predicts Emmy nominations for Jon Hamm, Elisabeth Moss, John Slattery and Christina Hendricks — and thinks Jessica Paré and Vincent Kartheiser could also get nods.
• Variety lists previous nominees who are likely to be nominated again this year, including Jon Hamm ("it's Hamm's time to make the winner's walk") and John Slattery ("primetime's wittiest rake"). Likewise, Broadcasting & Cable believes "Jon Hamm is a shoo-in to earn his fifth nomination." [No Link.]
• Hamm and John Slattery talk to Variety about directing episodes of Mad Men.
• HitFix considers best supporting actor Emmy nominations possible for John Slattery, Vincent Kartheiser and Jared Harris.
• Janie Bryant speaks with The New York Times about the inspiration she gets from traveling and some of her favorite souvenirs.
• The Hollywood Reporter polls TV scribes about the agony and ecstasy of writing, and Matthew Weiner reveals, "Everything I write is lacking in clarity some way." [No Link.] Weiner also explains to TV Guide that Season 5 was "a story of a second marriage."
• Christina Hendricks shares her thoughts with TVLine about the Joan/Don dynamic: "It's always been very kind and full of mutual respect." New York magazine highlights a bit from the interview where Hendricks reveals that her mother was an extra in Season 5, Episode 10, "Christmas Waltz."
• Variety interviews Vincent Kartheiser and wonders why his "portrayal of Pete Campbell has been overlooked by the TV Academy." Minneapolis-St. Paul's WCCO also interviews Kartheiser, a Minnesota native.
• Rich Sommer, who made his Broadway debut in Harvey last week, speaks with New York Magazine about imaginary friends and living in constant fear that Harry will get written off Mad Men. Sommer also talks to Metro about the theater and weighing Harry's dramatic vs. comedic moments.
• Christina Hendricks won a Critics' Choice Television Award this week for best supporting actress in a drama series.
• Mad Men is nominated for eight Pan-American Association of Film & Television Journalists (PAAFTJ) Television Awards, including best drama series, best lead actress for Elisabeth Moss, best supporting actor for Vincent Kartheiser, best supporting actress for Christina Hendricks and best writing for Matthew Weiner for Season 5, Episode 8, "Lady Lazarus."
• New York Magazine sums up Season 5 in a video without words called "The Sounds of Season 5."
• The Hollywood Reporter cites Jessica Paré as an example of the new craze for "gap-toothed grins."
• Wetpaint speaks with Kiernan Shipka about Sally's Season 5 arc.
• The Modesto (Calif.) Bee proclaims that "Mad Men remains the best show on TV."
• The Telegraph reports that new uniforms in the U.K. for McDonald's employees were inspired by Mad Men.
• BuzzSugar looks back at Jon Hamm's guest-star turn on Gilmore Girls from 2002 — and notes his quick scene with Alexis Bledel, who appeared in Mad Men's Season 5.
Read More