Press
Jon Hamm at THR Emmy Contender Roundtable; NY Times Asks Matthew Weiner About Season 5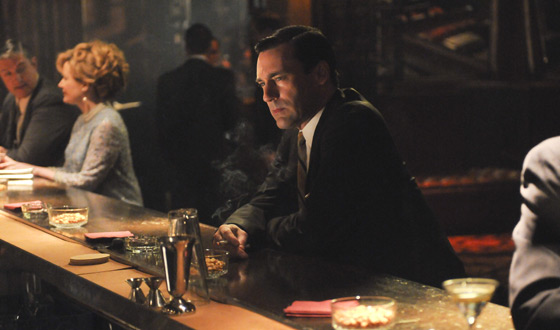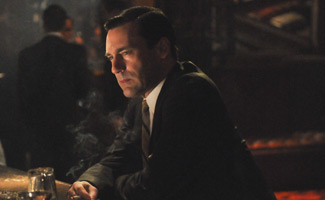 This week Jon Hamm joins The Hollywood Reporter's roundtable for Emmy-contender lead actors, and The New York Times chats with Matthew Weiner. Read on for more Mad Men news:
• Jon Hamm participates in The Hollywood Reporter's drama actor roundtable and discusses why he doesn't ad lib any of his Mad Men lines: "I made a decision early on in the run of the show to trust that [Matthew Weiner] is going to tell the story." Hamm also speaks more in-depth about meeting with Weiner before the writers room is even opened.
• Matthew Weiner gives a wide-ranging interview to The New York Times about Season 5 and Pete getting punched in the face. Weiner also gives a Season 5 post-mortem to Slate.
• Mad Men sits atop The Hollywood Reporter's power rankings: "Mad Men just finished Season 5 in style and, arguably, in the best shape of any great series that ran at least five seasons. An incredible achievement."
• Assessing Mad Men's Emmy chances, the Los Angeles Times says, "We think the odds of it losing this year are about the same as Pete Campbell suddenly developing a conscience."
• Entertainment Weekly's Emmy nomination wish list includes Mad Men for drama series, Jon Hamm for best actor, Elisabeth Moss for best actress, John Slattery for best supporting actor and Christina Hendricks for best supporting actress.
• The Hollywood Reporter chooses the same front-runners for Emmy nominations, but also includes Robert Morse for best guest actor.
• According to USA Today, Emmy nominations are likely for Mad Men as best drama, Jon Hamm as best actor, Elisabeth Moss as best actress, Vincent Kartheiser as best supporting actor and Christina Hendricks as best supporting actress.
• Variety posits that Christina Hendricks and Elisabeth Moss could both be nominated for Emmys again this year. Variety also sees Jessica Paré as a serious Emmy contender.
• TV Guide cheers Mad Men for "not leaving Lane Pryce (Jared Harris) hanging. They could've strung out his financial woes into next season, but his suicide was all the more shocking for its suddenness." [No Link.]
• Indiewire's video essay details the different ways in which Lane's death was foreshadowed.
• People advises keeping an eye on Jessica Paré because she's "suddenly all over the fashion scene, making a splash at stylish events throughout New York."
• Entertainment Weekly takes a stab at guessing how Mad Men will ultimately end once the series is over.
• Matthew Weiner tells the ATAS his one-word theme for Season 5 is "success" at Sunday's screening, covered by The Hollywood Reporter.
• The Los Angeles Times rundown of memorable '60's moments from Season 5 includes Don's plaid jacket, Roger's LSD trip and Paul's flirtation with the Hare Krishnas.
• Janie Bryant talks menswear with The Wall Street Journal and advises men how they too can look like Don Draper (or, at least, dress like him). Bryant also gives an overview of Season 5's fashion choices to New York Magazine. The Hollywood Reporter says that Bryant is submitting Season 5, Episode 1, "A Little Kiss" for Emmy consideration. Meanwhile, Tom Fitzgerald, of Tom and Lorenzo fame, deconstructs the meaning of Mad Men's fashions.
• The Washington Post talks to Aaron Staton about Ken and what he likes about Mad Men's characters: "There's just a journey, and it's organic, and it's affected by what happened in real life."
• John Slattery speaks with Rolling Stone and discusses Jared Harris' comment that he always knows what's going to happen before all the other actors. Slattery tells New York Magazine, "Matt [Weiner] never makes a false step. You know you're in good hands." Of directing his fellow actors on Mad Men, Slattery says to the Los Angeles Times, "It helps that we all like each other." [No Link.]
• Vincent Kartheiser tells The Huffington Post what it's like to be around Jon Hamm and John Slattery: "When I'm around them, I don't even try to be funny or cute. I don't try to be any of the good adjectives because they have those on lockdown." Kartheiser also discusses Lane's suicide and other topics with TV Guide, and reveals to New York Magazine that his favorite Pete expression is "Hell's bells, Trudy."
• Kiernan Shipka reveals to Vanity Fair that she got to keep a pair of go-go boots from the costume department, though not the pair that appeared on screen in Season 5.
• The Hollywood Reporter interviews Jessica Paré, proclaiming, "Paré officially has arrived." Paré also talks to Deadline about how close she was to returning to her native Canada before she landed the role of Megan. Vanity Fair thinks Season 5 "will be remembered as the season of Megan Draper." [No Link.]
• Rich Sommer does a Q&A with The New York Observer where he jokes about Harry blaming himself for Lane's death. Broadway.com talks to Sommer about Harry and Harvey (which opened this week on Broadway) and John Slattery.
• Sports Illustrated details Pete's three Season 5 fistfights, awarding one fight to Lane, another to the train conductor and concludes that the fight with Howard ended in a no-decision. [No Link.]
• The Daily Beast presents "the most surprising, exciting, thrilling, or heartbreaking moments" of Season 5. Newsday takes "a fond backward glance" at Season 5's top 10 moments.

• TheWrap reports that Season 5's finale was the series' most-watched season finale, while the season overall was the most-watched of all five seasons.
• Variety includes Mad Men's Season 5, Episode 1, "A Little Kiss" in its list of the TV season's top moments.
• Jon Hamm appears on the BBC's The Graham Norton Show and jokes about the Don Draper Barbie doll: "You don't want to leave that doll around any other dolls. It will get very, very inappropriate very quickly."
• Indiewire thinks Jessica Paré is a TV star that should break through to the big screen soon, commenting that "she's become one of the key figures on [Mad Men], indeed, arguably the most prominent female character."
• Quebecor Media Inc. interviews Sadie Alexandru, a Mad Men fan who also plays Scarlett: "It was surreal sitting at that conference table with all these characters I adore."
• The Daily Mail takes a look at some of the roles the Mad Men cast played before they became famous.
• Complex compiles a hook-up infographic detailing who slept with whom in Season 5.
• Metro remarks that name-checking Regina in Season 5, Episode 13, "The Phantom," spiked mentions on Twitter.
• Vincent Kartheiser speaks about starring in The Death of the Novel at the San Jose Repertory Theatre later this year.
• For recaps and reviews of Season 5, Episode 13, "The Phantom," check out The Associated Press, CBS News, CNN, Indiewire Press Play, MTV, The Oregonian, Paste Magazine, Rolling Stone, The Star-Ledger, The (New Orleans, La.) Times-Picayune, Variety, The Wall Street Journal, TheWrap and Zap2it.
Read More