Press
Mad Men on THR Cover; President Obama Compares Grandparents to Mad Men Characters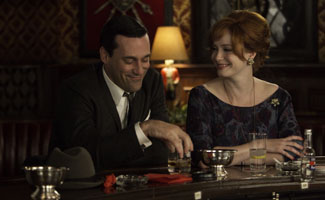 This week, The Hollywood Reporter highlights Mad Men, Joan and Christina Hendricks, while Jon Hamm talks to GQ about Daniel Radcliffe and the program they're doing together. Plus, President Obama compares his grandmother to Peggy. Read on for more:
• The Hollywood Reporter's special Mad Men-themed cover section — which includes musings from Matthew Weiner — centers around Christina Hendricks and Joan, declaring her the drama's "most divisive, decisive and delicious character."
• According to the Associated Press, President Obama has compared his maternal grandmother to Peggy Olson.
• Jon Hamm tells GQ it was his idea for Daniel Radcliffe to play his younger self in A Young Doctor's Notebook. Also, Hamm jokes to The Sydney Morning Herald about playing Shia LeBeouf's grandfather. In addition, Hamm shows up in a Funny or Die video "full of suspense, intrigue and every intense movie catchphrase conceivable."
• TVLine wants Elisabeth Moss on the Emmy ballot for Outstanding Lead Actress in a Drama, saying she is "long overdue." TVLine also thinks John Slattery is a major contender in the Best Supporting Actor category. Meanwhile, Deadline considers Jon Hamm and Elisabeth Moss to be "shoo-ins" for Emmy nominations and thinks Christina Hendricks could get a nod too. The Los Angeles Times is "still puzzling over" how it's possible that a Mad Men actor has yet to win an Emmy. [No Link]
• In more Emmy talk, Broadcasting & Cable notes that Mad Men, which is "coming off a very strong fifth season," would set a record if it wins the best drama series Emmy for the fifth time in a row." [No Link]
• Mad Men is nominated for five Critics' Choice Television Awards: Best Drama Series, Best Actor in a Drama Series for Jon Hamm, Best Actress in a Drama Series for Elisabeth Moss, Best Supporting Actor in a Drama Series for John Slattery and Best Supporting Actress in a Drama Series for Christina Hendricks.
• Mad Men is also nominated for three TCA (Television Critics Association) Awards: Individual Achievement in Drama for Jon Hamm, Outstanding Achievement in Drama and Program of the Year.
• The Hollywood Reporter includes Jared Harris in its photo shoot of potential Supporting Actor and Actress Emmy nominees, calling them "TV's Unsung Heroes.'
• Entertainment Weekly is devastated by Lane's death, asking, "Are you as emotionally drained as I am?" Slate puts the blame for Lane's death squarely on Don's shoulders, while the episode's writers, André and Maria Jacquemetton, tell Slate that "killing Lane is the most agonizing thing we've ever done." The Hollywood Reporter considers Lane's death to be one of TV's most shocking, and New York Magazine mourns Lane with an In Memoriam video of his best moments.
• Jared Harris' gives a post-mortem of Season 5, Episode 12, "Commissions and Fees" to Entertainment Weekly, HitFix, The Hollywood Reporter, The Huffington Post, Newsday, New York Magazine, The New York Times, Postmedia News, Reuters, Time, TV Guide, USA Today, Variety, TheWrap and Zap2it.
• Vanity Fair showcases some Barbie and Ken dolls outfitted as Mad Men characters, complete with Season 5 accoutrements.
• New York Magazine traces how suicide has haunted Mad Men since Season 1.
• John Slattery appears on ABC's Popcorn with Peter Travers and talks about acting in vs. directing episodes of Mad Men. Deadline talks to Slattery about directing. The New York Post profiles Slattery, who says, "there's nothing you can cook up that's better than what Matt Weiner can do. I'll gladly go wherever he wants."
• GoldDerby conducts a video interview with Christina Hendricks, who speaks about Joan's actions in Season 5, Episode 11, "The Other Woman." GoldDerby also interviews Jessica Paré, who talks about "Zou Bisou Bisou" and the Emmys.
• Slate examines Betty and Sally's "unexpectedly sweet" moments in Season 5, Episode 12, "Commissions and Fees."
• StyleBistro is a fan of the green cable-knit sweater that Megan wore in Season 5, Episode 12, "Commissions and Fees," marveling at its "elegant simplicity."
• Alison Brie discusses Pete with The Independent: "There are times when I just want to shout: 'How can you be so unhappy? You're with Trudy.'"
• Ben Feldman shares his favorite places for celebrity sighting, first dates and pre-dinner drinks with Immaculate Infatuation.
• Mark Moses tells AMCtv that Lt. Erik Olson, his character on The Killing, would probably think that Duck Phillips, his character on Mad Men, drinks too much.
• Caity Lotz (who played Anna Draper's niece, Stephanie) chats with Metro about resisting Jon Hamm.
• For recaps and reviews of Season 5, Episode 12, "Commissions and Fees," check out CNN, Entertainment Weekly, E! Online, HitFix, Indiewire Press Play, New York Magazine, The New York Times, Rolling Stone, Slate, The Star-Ledger, Time, TVLine, The Washington Post and Zap2it.
Read More