Press
EW Deems Mad Men Finale a "Must Watch"; January Jones in THR Emmy Roundtable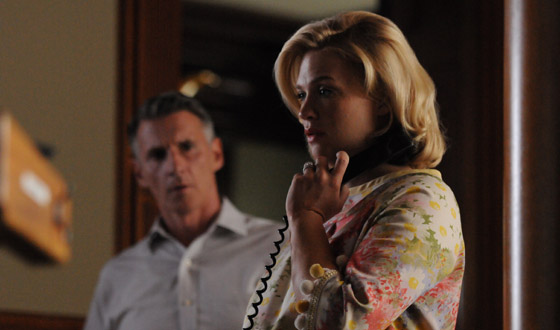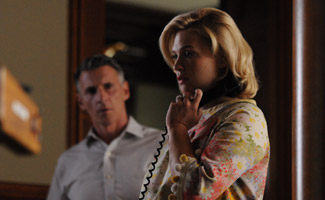 This week, Entertainment Weekly goes straight to the source to explain why the Mad Men Season 5 finale is a "Must Watch" and January Jones participates in a Hollywood Reporter Emmy roundtable. Read on for more Mad Men news:
• Mad Men's Jun. 10 Season 5 finale is labeled "Must Watch" by Entertainment Weekly, which quotes the show's creator, Matthew Weiner, on what to expect: "When the season wraps up, you will know more about Don than you've ever known." (No Link.)
• January Jones (along with The Killing's Mireille Enos) participates in The Hollywood Reporter's Emmy roundtable of drama series actresses — and talks about pole dancing (without a pole) for Jerry Bruckheimer.
• Jon Hamm is up for an MTV Movie Award this weekend, in the category of Best On-Screen Dirtbag, for his role in Bridesmaids. Total Film profiles Hamm, who speaks about children, rejection and playing Don Draper.
• Mad Men lands at No. 1 on this week's Hollywood Reporter's power rankings.
• Mad Men's Rich Sommer will host a live chat on EW.com during the East coast airing of this weekend's episode, "Commissions and Fees."
• Christina Hendricks breaks down Joan's motivations in Season 5, Episode 11, "The Other Woman" for GQ, which thinks the "emotionally wrenching episode was the best so far this season" for Hendricks .
• Janie Bryant speaks with InStyle about the outfits worn by Joan and Peggy in Season 5, Episode 11, "The Other Woman."
• Variety sees Season 5, Episode 11, "The Other Woman" as the potential source of Emmy nominations for Christina Hendricks, Elisabeth Moss and the writers, Matthew Weiner and Semi Chellas.
• Forbes compares a famous scene in The Godfather with the scene in Season 5, Episode 11, "The Other Woman" where Don's Jaguar pitch is intercut with Joan's night with Herb. Forbes also examines Joan's actions in the context of Helen Gurley Brown's life (author of 1962's Sex and the Single Girl).
• Salon supports Joan's decision in Season 5, Episode 11, "The Other Woman," believing "it's a rational choice that will give her much more autonomy than anything else available to her." New York Magazine thinks no one should be surprised that Joan did what she did.
• Us Weekly asks whether Joan or Peggy had the bigger bombshell in Season 5, Episode 11, "The Other Woman."
• The Chicago Sun-Times extols the greatness of TV, especially "the period piece masterpiece that is Mad Men."
• According to The Hollywood Reporter, Jessica Paré will present an award at next week's Council of Fashion Designers of America Awards. (Saturday Night Live's Seth Meyers is the host.)
• The Toronto Star speaks with Jeff Clarke, who shares that he auditioned for Mad Men every season before landing the part of Howard Dawes.
• For recaps and reviews of Season 5, Episode 11, "The Other Woman," check out A.V. Club, Entertainment Weekly (recap and review), HitFix, The Hollywood Reporter, Indiewire Press Play, the Los Angeles Times, New York Magazine, The New York Times, Salon, Slate (recap and review), The Star-Ledger, Time, TVLine, The Washington Post and Zap2it.
Read More