Uncategorized
Q&A – Kiernan Shipka (Sally Draper)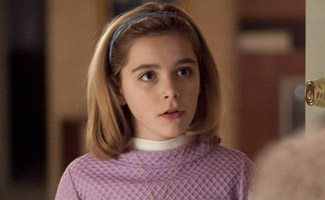 Kiernan Shipka, who plays Sally Draper on Mad Men, speaks with AMCtv.com about updating Sally's shoe closet and her plans for a Mad Men viewing marathon.
Q: If you lived in the 1960s, would your style be like Sally's?
A: I'd definitely have a style like Sally's. I think her style is really cute; it's really fun; it's really preppy. She loves dresses. I love her style.
Q: What's the process like for choosing Sally's outfits?
A: In the fittings, Janie Bryant the costume designer will ask you your personal opinion, whether you like [an outfit] or not. Sometimes you say, "Oh no that's terrible," and sometimes you go with the first thing you try on. But I'm usually just in awe of all those dresses.
Q: It looks like you grew a lot between Season 4 and Season 5. How did that affect Sally's wardrobe?
A: Yeah, definitely. I think I grew an inch and a half. So we definitely had to do a big fitting and lots of measurements. My feet grew, which was kind of a big thing because Sally's shoe closet has been pretty consistent this whole time.
Q: Do you ever keep any of your outfits from the show?

A: I've gotten to keep a couple of headbands… For some of those, Janie usually takes strips of material from the dress and she'll make matching headbands.
Q: It also looks like you got a new haircut…

A: I have. It was growing, and I wasn't super crazy about the length for me, so I just cut it a little bit because Mad Men introduced me to a bob last year, when Sally cut her hair, and I've just kind of kept it because I like it a lot.
VIDEO: Inside Episode 512, "Commissions and Fees"
Q: In the earlier seasons, your parents wouldn't let you watch the show. What about now?

A: I definitely wasn't allowed to watch when I was 6, 7, 8, or 9 even. But now I go to the table reads and I'm not in the dark about the show… Now I'm planning, when all the seasons are over, to have a Mad Men viewing marathon.
Q: Do you think kids are growing up faster today?

A: Well it's different today just because of electronics and Skyping and texting. I think that's put a big influence on everything. It's definitely changed.
Q: Does the Mad Men set look like it's from ancient times to you?

A: It's funny because you walk in and it's a huge sound stage, and within the sound stage, you walk into a little house and that's the Draper house. And then you walk back out of it and you're in modern times.
Q: How was it saying goodbye to the Draper house set?

A: It was really strange. That was kind of the set that I worked on the most. It was weird seeing it go.
Q: Sally has a really rebellious streak. Do you have one as well?

A: I'm definitely not super similar to Sally just because of the way she's parented and the time she grew up in… But sometimes I think of Sally as not really rebelling, but more so just coping. She's in an incredibly tough situation, and I can only imagine how I would react.
Q: But it must be fun to play a character with a dark side…

A: It's definitely been fun to portray Sally… All the characters on the show, really they act like human beings. They're written real; they're written flawed. They're just doing what a normal person would do.
Click here to read an interview with January Jones, who plays Betty Francis on AMC's Mad Men.
Read More