Uncategorized
Q&A – Julia Ormond (Marie Calvet)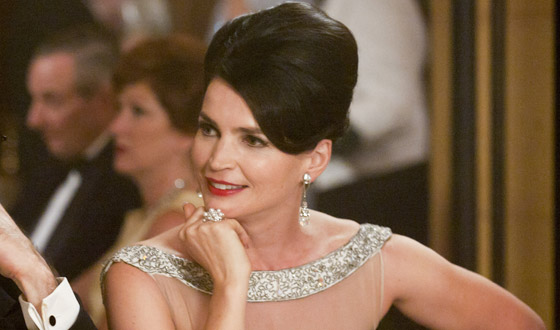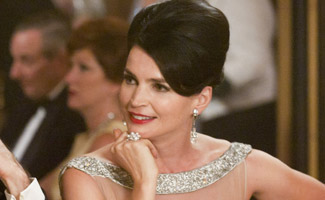 Julia Ormond, who plays Marie Calvet on AMC's Mad Men, speaks with AMCtv.com about how she got on the show and how she kept the season finale a secret.
Q: You play Megan Draper's mother, Marie Calvet, on Season 5. How did you come into that role?
A: I am a die-hard fan of the show… Over the years through industry events, I've met Matthew Weiner and begged him to be on the show. So when he asked me to come in and read, I did it.
Q: What were you told about the character?
A: Matt is fantastically specific when he creates a character… He sees [Marie] as extremely, intuitively knowing about people, but there's clearly a darkness to her relationship with her husband and a disappointment with how that's panned out, and then a pragmatism in what she does about it.
Q: Do you relate to her at all?
A: Yes. I think what I love about her most is the whole public/private dynamic: What we say in public versus what we do in private.
Q: Did you have a favorite character before joining the cast?

A: Oh my god, I love everyone! My one regret about doing the show is that I didn't get to work with all of the cast. For me, there's something about Peggy and Joan. They are these iconic female characters. They are archetypal in a way.
Q: You're actually British. How did you perfect your French (and your French accent) for Mad Men?

A: I'd played a character in a movie years ago where the character was French, so the accent and speaking in French I had done a bit of… I worked with a really wonderful, very dedicated dialect coach and together we kind of broke it down into how soft is it and how strong is it. And then we would take it to Matt and he would say, "I want more of this and less of that."
Q: What was it like working on the Draper apartment set?

A: It's amazing. Every detail is exquisitely done. There's something very transporting about it… It's very believable. You don't have to do any work yourself as an actor to suspend the disbelief.
VIDEO: Inside Episode 7, "At the Codfish Ball"
Q: Is John Slattery as charming in real life as he is on the screen?

A: John Slattery is just hilarious, brilliant. You never get enough of him on the screen and in the show. He's incapable of opening his mouth without being funny.
Q: When you took the part, did you know what was going to happen between Marie and Roger in Episode 7, "At the Codfish Ball?"

A: No, you're not actually told anything… But I found it to be this deliciously precise Mad Men moment in terms of how it was written… The way Matt drops in so precisely these moments in a person's life is amazing. It's really about Sally. It's this moment in Sally's life where she loses her innocence again.
Q: Do any of the women on the show reflect your style?

A: The older generation of women didn't given it all away… It was not about revealing everything that you can and highlighting every curve. It was much more stylish than that. It was much more about color and texture and weave and about detail. And costume designer Janie Bryant is just unbelievably fantastic.
Q: You returned for the season finale. Was it hard to keep it a secret?

A: I wasn't even allowed to say I was on the show! And I'm a crap liar. I go red. I get flushed… I ended up telling my friends, "No, I haven't worked." I just lied. I just didn't want to say, "I did this but I'm really not allowed to say anything." They'd look at me like I was crazy. That is really hard.
Click here to read an interview with John Slattery, who plays Roger Sterling on AMC's Mad Men.
Read More