Uncategorized
1960s Handbook – A Fistful of Dollars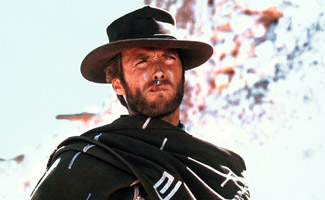 In 1963, the film critic Pauline Kael declared the Hollywood western a "devitalized, dehydrated form" overly concerned with nostalgia and pastoral beauty. Sergio Leone's A Fistful of Dollars, released in the United States in 1967, gleefully and violently proved Kael wrong, single-handedly revitalizing the genre. The "spaghetti western" and its two sequels made a movie star of its lead, Clint Eastwood.
In Fistful, Eastwood plays The Man With No Name, a gunslinger who comes to San Miguel, a Mexican town terrorized by rival and equally evil Mexican and American clans. Ultra-violent with no discernible morality, Eastwood's character pockets money from both sides before tricking them into destroying each other. That he does any good along the way is merely incidental.
A cineaste's delight, Fistful begins with a rotoscoped title sequence inspired by the ones in James Bond films and powered by composer Ennio Morricone's surf-guitar-tinged arrangement of Woody Guthrie's "Pastures of Plenty." Eastwood, wearing a trademark poncho, rides into town like the title character of the classic western Shane (not to mention Jesus on Palm Sunday). Amid the film's nonstop action, Leone layers in dozens more cinematic and cultural references.
Leone thought of his lead as a strong, silent, modern-day Gary Cooper type, but the Italian producers, Eastwood recalled years later, favored the "Hellzapoppin" acting style of his European counterparts: "To get my effect I stayed impassive, and I guess they thought that I wasn't acting. But Leone knew what I was up to."
The movie borrows liberally from Akira Kurosawa's 1961 film Yojimbo, in which a samurai outwits the feuding gangs controlling a Japanese village. Fistful opened with little publicity in Italy but quickly developed into a hit by word-of-mouth. (A copyright dispute with Kurosawa delayed Fistful's U.S. debut.)
U.S. reviews were initially negative by and large. The amorality of Eastwood's character offended many critics but, as in Europe, his cynical, laconic demeanor struck a chord with audiences who had tired of Western-hero clichés. The Man With No Name remains one of Eastwood's most iconic roles to this day.
Read More