Uncategorized
The Mad Men Fashion File – Neck and Neck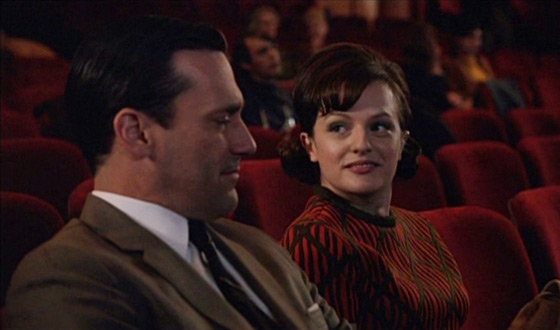 Ties and scarves have always had an integral place on Mad Men. Costume designer Janie Bryant has used their widths as a barometer for changing fashions. She's used their colors and patterns to reflect the evolving textile technology of the '60s (and sometimes the weather outside). And they've long been a staple of the Mad Men world's uniform, almost as if one's tie is an access key to the madness of Madison Avenue. But this season turned violent, and those key accessories have come to signify something much darker. We see it figuratively in this episode: When Don's in so much pain, he loosens his collar. We see it literally: Adam shows Don his noose-mark, a virtual tie and permanent scar. We even see it with women: Megan has traded her friendly green cable knit sweater for a black high-necked sweater and a green silk scarf in her hair, and Marie uses a scarf to cover up her pre-hairdresser mess. Megan's coincidentally also traded her honest behavior for nepotism and mild-to-moderate backstabbing, joining the "Every Man for Himself" parade led by Pete Campbell and Roger Sterling. Speaking of Pete, he also has a moment with a scarf — Beth's — which he grasps but can't hold on to as it floats away.
Funny enough, Peggy has shed her tie — once the thing that made her look like both a schoolgirl and a piece of the SCDP office furniture — for a blazing red suit. It's clearly trying to imitate Chanel, but it still doesn't quite fit her; a nice reference to the fact that she's still trying to fit into her new role as "The Boss." Peggy wears red again in the movie theater, where Don rightly tells her, "You look great." He also tells her, "That's what happens when you help someone. They succeed and move on." (Aww.) It's always remarkable how even at this point in his life, with all his money and power and a fantastic grooming routine, Don is afraid that every woman he knows is going to leave him. Perhaps that's why his costume very rarely changes: His suit and tie are the only stable things in his life.
Peggy's suit might not be quite right, but Joan's fits perfectly. The blue one she wears in the boardroom hugs her curves, but it also flattens her bust considerably more than her usual floral silk dresses. It's interesting that once Joan uses her feminine assets to conquer the business world, she begins to hide them more frequently. (Joan's cat-eye glasses were also fantastic; both stylish and sly, and perfectly period.) I know everyone wants to talk about Joan's red dress at the end of the show — it's an amazing piece for her. The dress is a confident color, with a strong silhouette that loudly announces she's a woman in a gorgeous, appropriate-but-powerful way. Joan standing at the window, in the middle of the SCDP partners, is a silent anthem of power, and her own declaration of independence. (But don't overlook the fact that this incredible dress is topped by a scarf.) That scene isn't the only "we conquer the city" moment in this episode: Roger Sterling has his own personal pose of triumph — this one stark naked in direct contrast — looking out his hotel room window.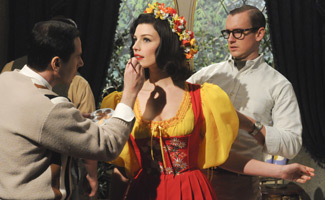 The final Lady in Red moment goes to Megan, who's literally living in a fairy tale and dressed in the red bodice of a Disney character. Before that, she was just black-and-white, as a flat, silent image projected on a wall. (Sadly, when Don watches her reel, it's one of the few times this episode that he truly looks happy.) So maybe Madame Calvet was right, and the world can't support many ballerinas, but it looks like Megan has figured out how to be a princess anyway. For now, at least…
Read More