Uncategorized
1960s Handbook – Dark Shadows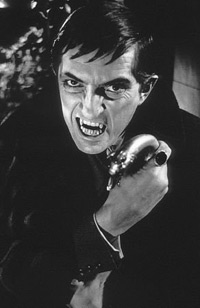 On June 27, 1966, ABC launched Dark Shadows, a daytime gothic soap opera set in fictional Collinsport, Maine. Screen legend Joan Bennett played the matriarch of the town's wealthy Collins family, but despite her star power Dark Shadows was facing cancellation when its creator and executive producer, Dan Curtis, introduced the character of Barnabas Collins, a tormented, lovelorn vampire played by Jonathan Frid. The foray into the supernatural, at the time a novel twist for a soap opera, transformed Dark Shadows into a cultural phenomenon, especially among the baby boomers who raced home from school to watch it.
The Barnabas Collins story begins in 1795 when he is first turned into a vampire at the hands of a spurned witch named Angelique. In the 20th century, Barnabas longs to become human again but cannot help preying on the innocent. Dr. Julia Hoffman, played way over the top by stage actress Grayson Hall, hopes to secure her place in in the annals of science by curing Barnabas. "My objective," Julia gravely informs him, "is to alter the cellular structure of your blood by introducing a new plasma into your arterial system." Meanwhile, the jealous Angelique time travels to the present to cause no end of trouble. A later plot arc set in 1897 saw the introduction of a new villain, a werewolf named Quentin Collins (played by David Selby).
Harvey Keitel, Marsha Mason, and Kate Jackson are among the actors who appeared in Dark Shadows early in their careers, and for many of its younger cast members, the show represented their first on-camera experience. Kathryn Leigh Scott, a recent graduate of the American Academy of Dramatic Arts, was making ends meet as a Playboy Bunny when she auditioned for the dual roles of Josette and Maggie Evans. In The Dark Shadows Companion (1993), Lara Parker, who played Angelique, recalls Scott advising her that the show's hectic pace of production of nearly 260 episodes per year wouldn't allow her to perfect her art — but it would help her develop her technique. Parker and Scott credit the show with aiding their artistic evolution, but though they went on to have other career successes, both are still remembered most for their turns in Dark Shadows.
Read More