Uncategorized
Q&A – Ben Feldman (Michael Ginsberg)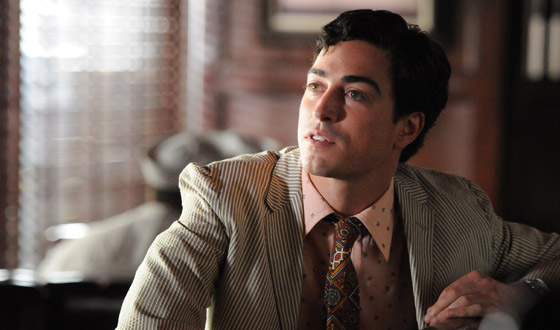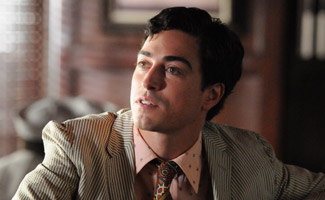 Ben Feldman, who plays Michael Ginsberg on AMC's Mad Men, speaks with AMCtv.com about being the new guy and going head to head with Don Draper.
Q: For a new character, you're getting a ton of screen time. How are you adjusting to the limelight?
A: I'm used to the people who come up and grab your shoulder and demand a picture. Mad Men fans are a lot more sophisticated…and sort of lightly tap you and say, [whispering] "Really good on the show" and then tip toe away. And then, there's of course the Baby Boomers… They want to let you know that while they're happy with what you're doing on the show, it's their generation and you're just a vessel. [Laughs]
Q: Ginsberg lays it on thick with Don to get the job. What's the furthest you've gone to land a gig?
A: I'm so hypersensitive to being the desperate, needy, sad actor that puts forth this huge palpable desperation, so I go out of my way to not be that aggressive. However, I definitely felt like there were parallels between meeting Don on the show and auditioning for Jon [Hamm] and Matthew Weiner.
Q: Did you do any research into what it meant to be Jewish in the 1960s?
A: Luckily for me, my dad is actually a Jewish advertiser and has been for many years. In fact, my mom was essentially Peggy… They remember this time very well… My dad was really excited when I told them about this part because he was like, "You know, we took over eventually," in reference to the Jews. [Laughs]
Q: Did your dad give you any advice on how to play Ginsberg?

A: Nothing specific. I try to avoid representing something. I don't want to be the voice of Jewish sixties advertisers or creepy, Lower East Side, dad-apartment-livers. I don't want to be the guy who speaks for anybody. I did my research on the time, and then I try to play a specific person.
VIDEO: Inside Episode 506, "Far Away Places"
Q: Jon Hamm directs the episode in which you debut. What was that like?

A: It was like the A-Team was there. The guy [Jon Hamm] who knows the show better than anyone else other than Matt Weiner was there directing. It was great.
Q: Elisabeth Moss said Jon Hamm helped calm her down during the scene where Peggy and Ginsberg meet for the first time…

A: There was actually a moment where Jon Hamm put his hand on my shoulder and said, "Relax, you got the job. You're doing fine."… It's cool for me to hear that Lizzy was like that too because, for me, that scene between her and I — I think was the second scene ever I shot on the show, so I was little bit terrified.
Q: Do you feel at home on the set yet?

A: The cast does what they can of course…but never did the idea that I was the sort of the new kid fade from the foreground for me. Because not only am I the new guy this season, I'm the crazy, weirdo new guy who dresses like a lunatic and says crazy things. I didn't get to join and fade into the ensemble as a normal person.
Q: What's your relationship with the costume department been like?

A: [Janie Bryant] is incredible. I would go into a fitting with her and try on a whole bunch of things, and if it didn't sort of creep her out or make her step back and sort of smile and look at me sympathetically then that outfit didn't make it to air. The amount of apologizing and "Oh, I'm sorry Ben" — that happened every time I went into a fitting with her.
Q: Do you think there will be a lot of Ginsberg Halloween costumes this year?

A: That was one of my first thoughts. I'm certainly not going to be leading any movements in American fashion any time soon, but hopefully October 31st I'll see another Ginsberg or two out there.
Q: Ginsberg's got a very distinct accent. Where did it come from?

A: [The part] didn't call for an accent. It just called for a New York energy. And I don't know how many others actors who went in for this role went for it with the accent, but I figured that would either give me a leg up or destroy me in the audition… I know a lot of people in New York, I used to live in New York, I have relatives in New York, and I hear this weird, goofy amalgamation of their accents.
Q: How did you approach the scene where Ginsberg tells Peggy he's from Mars?

A: That was one of the biggest, sort of daunting things for me to tackle as an actor… You don't know if you want to play it where it's sort of tongue in cheek, or is he trying to communicate with her in some sort of code language? There's a million things that went through my mind when I read that, when I worked on it, and when I talked to Matt about it… I kind of like that it's left up hugely for interpretation.
Q: Were you surprised that your character tries to take Don Draper on so early?

A: It's cool in sort of the scary sense. I was one of the people that forced this show on all my friends before it caught on. I've been an über-fan since the beginning. And everything about walking into a world that you've loved and admired for years is super surreal… It was definitely a crazy experience going in and going head to head with Don Draper.
Click here to read an interview with Jon Hamm, who plays Don Draper on AMC's Mad Men.
Read More