Uncategorized
1960s Handbook – The Zombies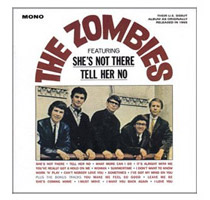 Following the success of The Beatles' first American tour, a parade of British "beat" bands imitating their look and harmonies headed west across the Atlantic seeking similar fame. Among the participants in what came to be known as the British Invasion was The Zombies. The group's single "She's Not There" (1964), became a hit after receiving high praise from Beatles' guitarist George Harrison. In early 1965, The Zombies made its U.S. television debut on the premiere episode of the NBC rock variety show Hullabaloo. (The following act was 29-year-old Woody Allen, doing stand-up.) The Zombies also performed three songs in Otto Preminger's psychological thriller Bunny Lake Is Missing (1965).
Led by Colin Blunstone on vocals and Rod Argent on piano — accompanied by bassist Chris White, who penned a number of the group's songs — The Zombies followed up "She's Not There" with "Tell Her No" (1965). That wistful single also charted well, but disappointing sales on later efforts resulted in the band's label, Decca Records, dropping The Zombies. The problem, according to some rock historians, was that despite having more musical chops than many British Invasion bands, they lacked a producer as talented as The Beatles' George Martin to help shape their sound. Perhaps even more crucial, they didn't have management with the marketing savvy of the Fab Four's Brian Epstein.
The Zombies disbanded in 1968 after recording Odessey and Oracle for CBS Records. As fate would have it, a single off the album, "Time of the Season," became the band's biggest hit, eventually selling more than two million copies, but the group declined to reunite.
Well after the British Invasion had run its course, the fabled rock critic Lester Bangs declared the era more significant as an "event" and a "mood" than as a musical phenomenon. Bangs dismissed much of the resulting music as "candy floss" but wrote that it "amounted almost to tragedy" that a band as talented as The Zombies had foundered. The music, however, endures. Odessey and Oracle routinely pops up on lists of the greatest rock albums ever. Original Zombie members Argent, Blunstone, White, and drummer Hugh Grundy performed an acclaimed 40th anniversary concert (guitarist Paul Atkinson died in 2004), and Argent and Blunstone continue to tour as The Zombies to this day.
Read More