Uncategorized
1960s Handbook – The Fixer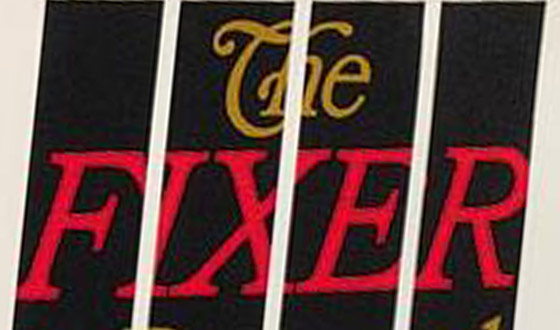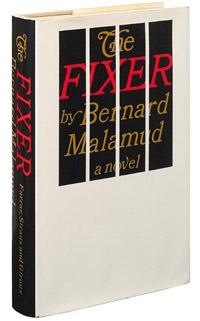 A real-life incident involving a Jewish handyman accused of the ritualistic killing of a Christian boy became the basis for Bernard Malamud's 1966 novel The Fixer. Set in Tsarist Russia in 1911, the book won both the Pulitzer Prize and National Book Award for fiction. As Malamud's story begins, the title character, Yakov Bok, has assumed a fake identity, denying his Jewishness so he can live and work in an area off-limits to Jews. Following his arrest for blood libel, Yakov spends two and a half years chained to a prison wall before even being charged with a crime. Without an indictment, no one can mount a defense.
Prior to his imprisonment, the impoverished Yakov bemoans life's many injustices, telling his father-in-law that "life could be better than it is," and recounting his tribulations to date: His mother died ten minutes after giving birth to him. He became an orphan the next year after his father's senseless murder by two drunk Russian soldiers. Later, Yakov's unfaithful, barren wife, Raisl, deserts him and winds up conceiving a child with another man. Yakov condemns Raisl as a whore, but when she visits him in prison to request that he accept paternity to spare her child the stigma of illegitimacy, he agrees.
Yakov experiences an existential crisis of epic proportions while in prison, not to mention enduring untold degradations, but begins to embrace his true identity and emerges somewhat heroic for refusing to sign a false confession that would brand all Jews as bloodthirsty killers. As with other Malamud protagonists, Yakov's enlightenment is the product of the suffering that is both a constant of human life and what makes redemption possible.
In the 1960s, Malamud, and his contemporaries Saul Bellow and Philip Roth cast such a strong influence on Jewish-American literature that for many their writings constitute the genre's golden age. During that decade, Malamud began an affair with one of his writing students at Vermont's Bennington College. His wife, Ann, retaliated by herself initiating an affair. Despite the infidelities, the couple remained married until his death in 1986.
Read More