Uncategorized
Q&A – Rich Sommer (Harry Crane)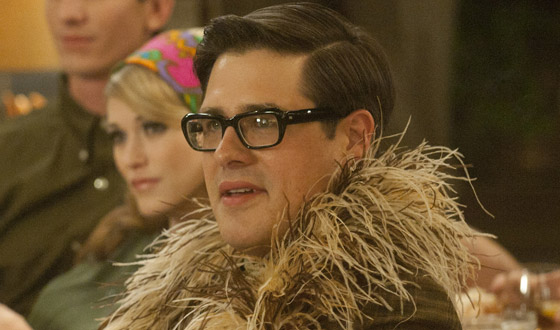 Rich Sommer, a.k.a. Harry Crane on Mad Men, talks about eating all those hamburgers earlier this season and the impact of rock and roll then and now.
Q: Harry has had a few cringe-worthy moments this season. What's your favorite?
A: I think the best is when he's talking to Stan in the kitchen about "Zou Bisou Bisou." But that whole thing with Don in the car — I loved that too. Don tells him, "You've got to go," and Harry says, "Just let me sit here for a second." It's very much something I would say.
Q: Did you enjoy eating all those hamburgers for that scene?
A: I love White Castle, but everything in moderation. Unfortunately they were sort of heated up one by one because there's no White Castle near where we shot the scene. So they were like nuclear hot.
Q: Harry recommends that adults with kids "eat first." Does that hold true in your household?
A: I definitely eat fast because my kids will try to graze off my plate… But I'm much more willing to share than Harry.
Q: Do you think rock bands have the same impact today that the Rolling Stones and The Beatles did in the '60s?

A: I would say that they don't have the same cultural resonance that they used to, but that's because there's so much more access to different types of entertainment. I almost think that certain YouTube clips have had more impact lately than any rock and roll band.
VIDEO: Harry Has an Unexpected Visitor
Q: Megan tells Peggy that Don hates Harry. Was that news to you?

A: In that specific of terms, absolutely. I don't think Don's gone too much out of his way to show how much he loves Harry in the past, but I think Harry's clearly annoying… I'm not convinced that anyone loves Harry on a personal level in the office.
Q: In the backstage scene of Episode 3, "Tea Leaves," Harry and Don suddenly seem so old. Do you have moments like that in your real life?

A: [My wife and I] went to see Martin Sexton, who's this acoustic guitar player…at the House of Blues in Hollywood, and we were definitely the old folks in the room. And my wife was pregnant at the time, so that probably didn't help us feel any younger.
Q: You've said that you and Aaron Staton play Call of Duty online. Have you been playing your own video game, L.A. Noire?

A: It's hard with two kids and Aaron can probably attest to that as well… Aaron and I have both played it, but I haven't gotten to the end yet. In fact, I haven't even gotten to my scene. [Laughs]
Q: The fight scene between Pete and Lane was surprising. What was your response when you found out that was happening?

A: It was exciting. The writers always keep us on our toes. The only thought I had was, "Oh, I wish I was in a fight." [Laughs] That would be a fun day at work. And you're talking about two of my favorite characters, so to have these two guys go at it and have Lane initiate it was just brilliant.
Click here to read an interview with Jon Hamm, who plays Don Draper on AMC's Mad Men.
Read More