Press
GQ Calls Matthew Weiner an Auteur; Jon Hamm Cast in Production with Daniel Radcliffe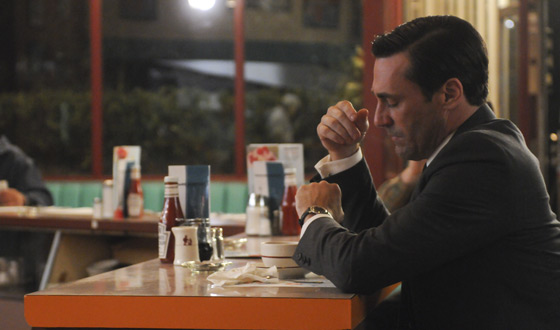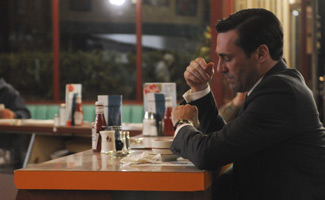 This week, GQ calls Matthew Weiner one of this generation's auteurs and Jon Hamm is cast in a production with Daniel Radcliffe of Harry Potter fame. Plus, video of Jon Hamm saying some famous words on SNL and New York Magazine chats with both Weiner and Jessica Paré. Read on for more Mad Men news.
• GQ calls Matthew Weiner one of this generation's auteurs in a roundtable with the Mad Men creator, Vince Gilligan and David Milch. Weiner tells the magazine that running a show is "like falling in love." [No Link]
• According to The Hollywood Reporter, Jon Hamm and Daniel Radcliffe will play older and younger versions of the same character in a production based on Mikhal Bulgakov's A Young Doctor's Notebook. Entertainment Weekly breaks the news that Hamm will speak in a British accent in the miniseries: "Let's pause and let that sink in."
• Jessica Paré lands on the cover of New York Magazine, and the mag also speaks with Matthew Weiner about Jessica Paré's (and Megan Draper's) storyline and why he never pretended that Betty Francis was "a regular looking wife."
• Jon Hamm appears in the Saturday Night Live season finale and gets to say, "Live from New York, it's Saturday night!" The Huffington Post says Hamm is "quickly becoming an unofficial SNL cast member à la Alec Baldwin, Steve Martin and Justin Timberlake," while Zap2it comments, "It seems like he drops by about every other week, not that we're complaining because we love him and he's very funny."
• TV Guide is enjoying one of the show's slowly blossoming female relationships, noting "something juicy has been happening every time Peggy and Joan share scenes." [No Link]
• Jessica Paré speaks with Rolling Stone, which says the actress "has been knocking everybody's socks off all season." The Awl thinks Megan "might be the first series regular who not only reads Vogue but studies it," noting many of her outfits appeared in the magazine's September 1966 pages.
• Christina Hendricks is No. 77 on Maxim's Hot 100 list of the world's most beautiful women.
• The Wall Street Journal tracks down Jean-Claude van Itallie, the playwright behind American Hurrah, which Don and Megan attended in Season 5, Episode 10, "Christmas Waltz."
• Rich Sommer tells Slate he doesn't think Harry's changed much over the years.
• The Huffington Post says Don, at the end of Season 5, Episode 10, "Christmas Waltz," was "filled with that Harrison Ford swagger displayed so well in Air Force One." The Huffington Post also profiles Lisa Gizara, the woman behind some of the artwork in "the mid-century cool of Roger Sterling's office."
• Kiernan Shipka talks fashion with Yahoo and also reveals that Meryl Streep is her favorite actress: "I think it's really awesome how she transforms herself into every role."
• The Sydney Morning Herald is amazed by how, in every episode of Season 5, "creator Matthew Weiner has deftly embedded at least one depth-charge moment."
• Film School Rejects applauds Mad Men for integrating "personal storylines into major events in a way that gives them a believable microscopic intimacy."
• MediaPost imagines what it would be like if Don Draper worked in search engine marketing. One example: "Search ads would make you cry."
• Screen Daily reports that Christina Hendricks will star in a Darren Aronofsky-produced thriller called Zipper.
• For recaps and reviews of Season 5, Episode 10, "Christmas Waltz," check out A.V. Club, CNN, Entertainment Weekly, E! Online, HitFix, The Huffington Post, Indiewire Press Play, New York Magazine, The New York Times, The Seattle Times, The Star-Ledger, Time, TVLine, The Washington Post and Zap2it.
Read More