Press
Mad Men Visits Inside the Actor's Studio; Jon Hamm Back as Sergio on SNL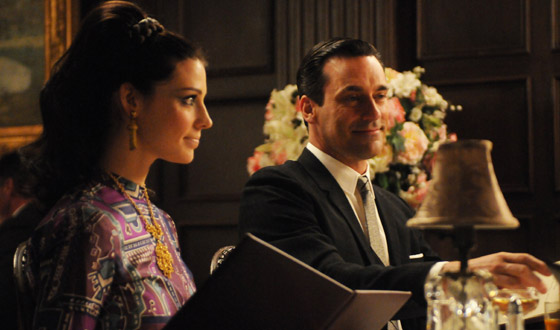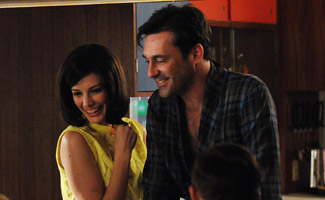 This week, Mad Men visits Inside the Actor's Studio and Jon Hamm reprises his role as Sergio the sexy saxophonist on Saturday Night Live. Plus, Jessica Paré lands on the cover of New York Magazine. Read on for more Mad Men news.
• Matthew Weiner and cast members including Jon Hamm appeared on Bravo's Inside the Actor's Studio. Bravo's website features six exclusive clips that didn't make it into the show, while Entertainment Weekly learned five things from the broadcast.
• Watch the video of Jon Hamm as Sergio the saxophonist in Saturday Night Live's 100th digital short.
• Jessica Paré appears on the cover of New York Magazine's TV issue and is profiled inside.
• Ben Feldman (Michael Ginsberg) tells Entertainment Weekly the elevator scene in Episode 9 was "imposing" because Jon Hamm is "35 feet taller than [me]."
• New York Magazine uses Mad Men as an example of how TV watching "has become a group activity, practically a hive mind."
• Gold Derby reports that Jessica Paré will compete in the lead actress category at this year's Emmy Awards.
• In a video interview with Gold Derby, Elisabeth Moss says, "It was really nice to have that opportunity" to yell at Don in Episode 8, after "he stood behind his desk and yelled at me so many times."
• The Atlantic digs up the real New York Times Magazine article from 1966 on "hip" ad agencies that upset Pete so much.
• Gothamist researches the smog problem that hit New York City in 1966 and that Megan called "toxic" in Season 5, Episode 9, "Dark Shadows."
• Salon welcomes the golden age of child acting, citing Kiernan Shipka, who "shows us how girls like Sally Draper deal with the socio-historical shifts of the '60s."
• The Globe and Mail interviews André and Maria Jacquemetton, who talk about using Jessica Paré's real French-Canadian background in the show.
• Jared Harris talks to Metro about Mad Men's appeal: "It's the writing, the insight into the characters, the period and how it reflects on the times we're living in."
• The Huffington Post spotlights an artist who portrays fictional families, like the Drapers, in colored-pencil "awkward family portraits."
• Joel Murray tells the Chicago Tribune that Mad Men opened a lot of doors for his career. To Shockya, Murray characterizes Mad Men as a show that "wants men to go back to being men."
• For recaps and reviews of Season 5, Episode 9, "Dark Shadows," check out A.V. Club, CNN, Entertainment Weekly (recap and review), E! Online, HitFix, The Hollywood Reporter, Indiewire Press Play, the Los Angeles Times, The New York Times, The Star-Ledger, Time, TVLine, The Washington Post and Zap2it.
Read More