Press
Washington Post Marvels at Jon Hamm Rapping; People Says Jessica Paré is 'Swingin'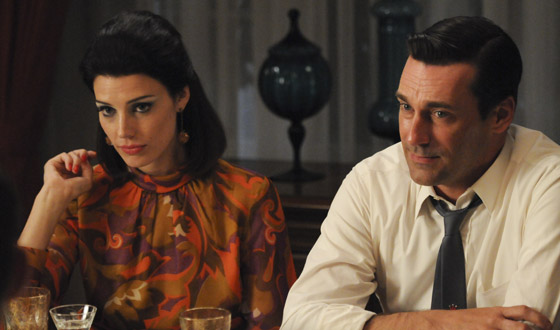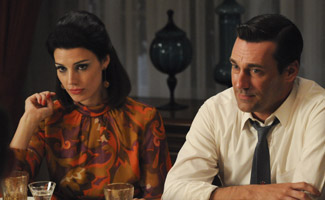 This week, The Washington Post asks if there's anything Jon Hamm can't do and People explains why it loves Jessica Paré. Read on for more Mad Men news.
• A preview of IFC's Comedy Bang! Bang! features Jon Hamm doing a duet with Reggie Watts about the TV show Taxi. Zap2it comments, "What is absolutely incredible is that Hamm really knows the show." TheWrap thinks "Hamm's voice sounds cool and his Reverend Jim imitation is great." The Washington Post asks, "Is there anything Jon Hamm is incapable of doing?"
• People loves Jessica Paré because "she's so swingin' Sixties," "she's come a long way, baby" and "yes, she's her own woman." [No Link]
• Check out The Hollywood Reporter for a video of Jon Hamm dispensing advice to teenage girls in Rookie's "Ask a Grown Man" segment. In a similar vein, The Huffington Post looks at other Hamm roles that "seem designed to showcase his comedic range."
• January Jones tells Vanity Fair about the Oceana ocean conservation group she's involved with: "I've loved sharks since I was young. There's something magical and prehistoric about them."
• Entertainment Weekly looks at how Mad Men has tackled moments of social change, "from an interracial couple to single mothers to the first time Peggy Olson smoked pot."
• Ahead of Matthew Weiner and the Mad Men cast's May 14 appearance on Bravo's Inside the Actor's Studio, host James Lipton shares a few tidbits from the show.
• Time examines changing colors, including how "Mad Men is becoming a much brighter show visually-even if the mood, the times and some of the characters' lives are only getting darker."
• In a video interview with Young Hollywood, Vincent Kartheiser reminisces about his very first audition for Mad Men.
• Entertainment Weekly takes a look at the many cultural references in last Sunday's episode, "Lady Lazarus."
• Slate writes about the importance of The Beatles' "Tomorrow Never Knows" within the pop music landscape. Mad Men writers André and Maria Jacquemetton tell The Vancouver Sun why it was important to feature that song in particular.
• Deadline reports that Jon Hamm has been cast as the lead in Million Dollar Arm, about an unorthodox sports agent for the Pittsburgh Pirates.
• Joan is a member of Glamour's Assistant Hall of Fame on the strength of her fashion advice, e.g. "You want to be taken seriously? Stop dressing like a little girl." [No Link]
• Glamour is also loving Pete's outfits this season: "Those fashion-forward plaid blazers are sensational." [No Link]
• The Wall Street Journal examines how several potential fall dramas, inspired by shows like Mad Men, are period pieces.
• Entertainment Weekly takes a look at Mad Men's "most recognizable and surprising guest stars." TV Guide says of one of this week's guest stars, Alexis Bledel: "Apparently, little Rory Gilmore grew up to be a 1960s housewife in Cos Cob."
• The Boston Globe thinks John Slattery "is just on fire this year."
• The New York Daily News names Mad Men one of TV's top things last week, calling the show "a gold standard."
• Forbes posits that Megan is the most liberated woman on Mad Men — and notes that all the men on the show are "dissatisfied."
• VH1 covets all of Megan's outfits from Season 5, Episode 8, "Lady Lazarus," complimenting her "blend of Bohemian and European style."
• The Denver Post examines how TV motherhood has strayed far from June Cleaver, citing Megan's mother, Marie, played by Julia Ormond, as an example.
• Metro speaks with Elisabeth Moss, who shares that she thinks Peggy has "become less naive, smarter, stronger and more confident," over the course of the show's five seasons.
• Rich Sommer visits FOX's Good Day New York and describes Harry as "slightly misunderstood." Sommer also speaks a little about Harry and a lot about his new film, Fairhaven, to Examiner.com.
• For recaps and reviews of Season 5, Episode 8, "Lady Lazarus," check out A.V. Club, Entertainment Weekly, E! Online, HitFix, The Hollywood Reporter, The Huffington Post, Indiewire Press Play, the Los Angeles Times, New York Magazine, The New York Times, The Star-Ledger, Time, TVLine, The Washington Post and Zap2it.
Read More