Press
People Covers Jon Hamm on 30 Rock; EW Calls Season 5 Best Yet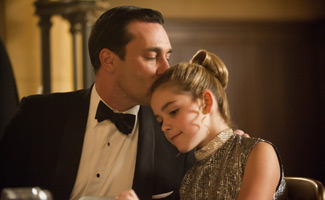 This week, People reports on the multiple Mad Men references in NBC's 30 Rock live episode while Entertainment Weekly loves Season 5 and Roger Sterling. Read on for more Mad Men news.
• People reports the 30 Rock live episode featured a rendition of "Zou Bisou Bisou" in addition to multiple Jon Hamm roles, while HitFix's review proclaims the sketch of "Hamm in an afro and blackface was the clear winner." TVLine asks if there's "a greater dichotomy in TV than Jon Hamm alternating between tall, dark and brooding Don Draper and, say, playing Tracy Morgan's entirely offensive brother on 30 Rock?"
• Entertainment Weekly — which thinks "this is shaping up to be the best Mad Men season yet — credits Roger as "one current live wire sparking the series."
• Time posits that Sally Draper may be "the secret protagonist of Mad Men."
• John Slattery graces the cover of Boston Common magazine and says, of Roger, "I understand him. We are all trapped, to some extent, by our choices and the consequences of those choices."
• TV Guide's top moments of last week include Roger and Jane's LSD trip ("funny, euphoric, sad and revealing all at once") and Kiernan Shipka's turn with James Van Der Beek in ABC's Don't Tell the B—- in Apartment 23.
• The New York Times reviews The Five-Year Engagement and says Alison Brie "pretty much steals the whole movie." New York Magazine interviews Brie, who talks a lot about Trudy and shares that "someone on Twitter recently was like, 'Yo … I don't know if you know, but Pete had a baby with Peggy.'" Brie tells Screen Crave how much she loves Mad Men.
• Rolling Stone interviews Rich Sommer, who says one of his favorite scenes of the entire series was Harry eating White Castle sliders with Don: "It was so much fun and…[Jon Hamm] was such a good director."
• The St. Louis Post-Dispatch says Mad Men, "with its powerful current season, now joins The Wire, The Sopranos, and Breaking Bad in the pantheon of the greatest non-network TV shows of all time."
• Deadline reports that Laura Ramsey, who played Joy in the Season 2 episode "The Jet Set," has been cast in Matthew Weiner's feature directorial debut, You Are Here.
• HyperVocal provides some clips of Robert Morse in the '60's, including a stint on the What's My Line? game show and a clip from How To Succeed in Business Without Really Trying.
• The New Zealand Listener heralds the return of Mad Men to New Zealand TV, calling it a "masterpiece."
• For recaps and reviews of Season 5, Episode 7, "At the Codfish Ball," check out A.V. Club, Entertainment Weekly, E! Online, HitFix, The Hollywood Reporter, The Huffington Post, Indiewire, the Los Angeles Times, New York Magazine, The New York Times, The Star-Ledger, Time, TVLine, The Washington Post and Zap2it.
Read More