Uncategorized
1960s Handbook – Little Murders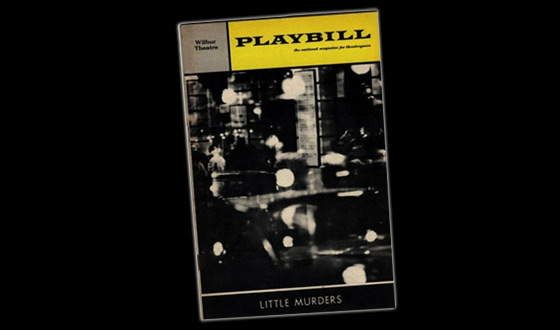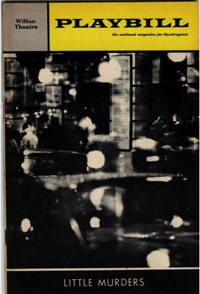 In 1964, while working on the novel that would eventually become Little Murders, famed Village Voice cartoonist Jules Feiffer addressed a roomful of ad-agency art directors and account executives. Having been told not to pull any punches, Feiffer declared the advertising industry as hopelessly corrupt as the Mafia. Tongue only partially in cheek, he proposed that to compensate for their deceptive messages, advertisers should pay a "tithe" that would fund true art. Four decades later in his memoirs, Feiffer recalled that he endured walkouts and "waves of hostility" from his audience.
Feiffer's playwriting career got off to a similar start with the 1967 premiere of Little Murders. The dark comedy opened and closed on Broadway during the last week of April after an equally disastrous tryout in Boston. Little Murders grew out of Feiffer's intuition that American society had descended into chaos following the assassination of President John F. Kennedy. As the play opens, Alfred, a nihilistic and apathetic photographer (his only subject is excrement), falls under the spell of the optimistic Patsy, a Doris Day type who makes it her mission to save him from himself. The show's cast included Barbara Cook as Patsy, Elliott Gould as Alfred, and David Steinberg as Patsy's effeminate brother Kenny.
Set in the Upper West Side apartment of Patsy's family, Little Murders starts off as a zany comedy, albeit to the increasingly frequent sounds of gunshots and mayhem on the streets below. The scenario takes a bitter turn after Patsy, having married and successfully transformed Alfred, is murdered by a sniper. By the play's end, Patsy's family members cope with their shattered world by gleefully committing violence themselves.
In response to harsh reviews, Feiffer informed the director of Little Murders' London production that the Boston critics hadn't understood the play. The Bostonians understood it better than their New York counterparts, however, "who totally withdrew from it."
The critical response wasn't all bad: John Simon praised Little Murders for having "the courage of its bleak, misanthropic view of life," and the New York Drama Critics anointed Feiffer the most promising playwright of 1966-67. The better-staged London production opened to acclaim, and two years later Alan Arkin directed a successful Off-Broadway edition and later the 1971 film. Gould, by then a star, reprised his role as Alfred and co-produced the movie version.
Read More