Uncategorized
The Mad Men Fashion File – Venus in Fur (and Blue Jeans)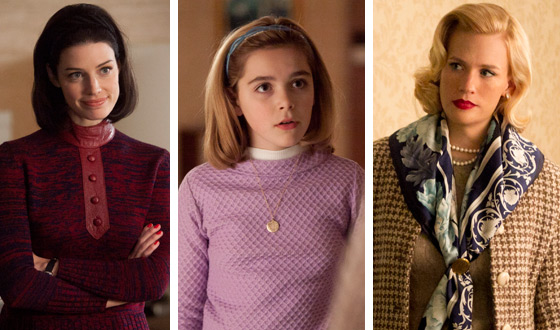 This week's Mad Men was all about competition, rivalry, and winning at all costs. Costume designer Janie Bryant's choices for the episode reflected that from the first group shot: When Roger, Cooper, Don and Pete were crammed inside the elevator together, they wore jangling prints and bright colors that fought for visual attention. Pete had green plaid, Don had blue stripes, Cooper had a mustard-colored scarf, and Roger — of course — was more flamboyant than them all in a red silk scarf, a red tie, and a red-tipped fedora. Their costumes were more than funny; they were a classic case of "peacocking," when males in an animal community embellish their looks to lure better mates and up their social standing. The peacock theme also turns up in Joan's round golden brooch, which resembles the bird in full display.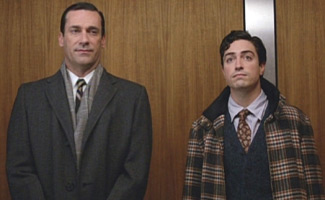 The really crazy part about all this office peacocking: In this context, Ginsberg's costumes show he's just doing a higher-volume, lower-budget version of the exact same thing. (On that note, how hysterical was Ginsberg's trip into Roger Sterling's office? His all-brown ensemble was so out of place against Roger's black and white painting, with Ginsberg's various plaids and paisleys going to war with Roger's epic black dots. The visual madness was almost as funny as a snowball hitting a school principal — not that we'll ever get to see that…) Ginsberg's final showdown with Don had some satisfying snark, too: In the confines of the elevator, Ginsberg's dark pointy collar definitely evoked the Devil in Don's pitch!
As the men one-up each other's tie patterns, the women are slightly more sneaky, keeping their turf war to silhouettes and color palettes. The showdown between Megan and Betty is the most obvious — and the most severe. Throughout the episode, Megan's in slim pants and warmer tones like orange, red and violet, while Betty's costumes retain her usual cool shades of ice blue and baby-doll pink. The two Mrs. Drapers don't just have a physical collision in the hallway, they also have a fashion standoff: Megan's pants and red swirly top are modern, easy and straightforward; Betty's printed Hermes scarf and wool houndstooth coat are heavy, classic and concealing.
Caught between them in just about every way is Sally Draper, and her costumes masterfully reflect the way she's being bounced from one household to the other. In Sally's first scene, she sits across from Megan on the floor and mirrors her stepmother's posture, expression, and even outfit. (Megan wears a green cable knit sweater, jeans, loose hair and bare feet. Sally wears a lavender waffle knit sweater, jeans, loose hair and socks.) Fast forward to the scene where Sally accuses Megan of being a liar and a fake: Sally's in a cool blue sweater with a collar mirroring one of Betty's scarves and her hair perfectly pulled back… just like Betty. Creepy, right?
Plot points aside for a moment, Megan-Watch is still going, thanks to one of her coolest costumes yet: A red and violet space-dyed tunic with a deep red leather Henley collar, and wide-leg blue jeans. If you're dying for that look, your best bet is Missoni, the Italian knitwear line famous for their mod-influenced yarn patterns and bright, saturated runway colors. In a store, Missoni pieces generally cost $500 and up, but you can find pieces from the Milan label at most thrift stores for considerably less. (Target also collaborated with them last season, with lots of leftovers still on eBay.) As for the jeans, the London label MiH is based on the UK "Made in Heaven" denim range from the '60s, and often references their mod London origins in their collections. (Again, you can also get a killer pair of vintage flares for under $20 in most thrift stores, and definitely online.) In Episode 8's Fashion File, a commenter asked if Megan was wearing a piece by Bonnie Cashin, a ready-to-wear designer who's credited by many in the style world as creating the first women's sportswear collections. Although I couldn't find that exact coat in my research, I did find over 130 vintage Cashin designs on Etsy; most sell for around $100 and many are very Megan. (Also, Coach recently resurrected some vintage handbag designs created by Ms. Cashin in the '60s. They're available online and in stores for about $250.)
Finally, there were two instances of naked women in fur during this episode, with Jane Sterling and Beth Dawes both having the honor. Beth appears in Pete's imagination, wearing a black mink and red lipstick over nearly translucent skin and bare breasts. Jane is seen in real life, shielding herself from Roger with her coat in her new apartment after their unplanned night together. Both are the hollow dream girls of men, but both are also capable of real destruction when they want to. I'm calling them The Venuses in Furs, after the Lou Reed song about a young femme fatale. It was on the first Velvet Underground record, and it came out a few months after this episode is supposed to take place.
Read More