Uncategorized
The Mad Men Fashion File – Valley of the Dolls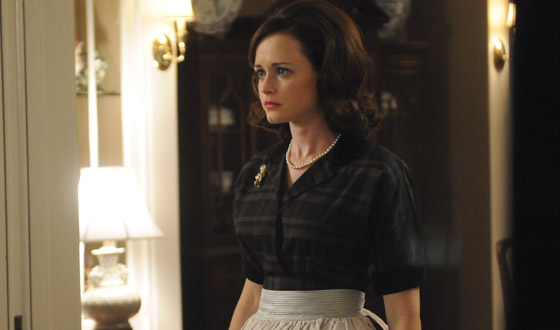 Move over, Betty — you're not the only doll-faced and desperate housewife on the block. Enter Beth Dawes, whose blue eyes are the color and shape of a Wonder Bread circle, and whose Plasticine skin is a flawless cover for her seething anger and resentment. Beth is completely stuck in her situation: While other young women in this world have careers and passions, Beth only has her cardboard cut-out of a marriage — with a real domestic mess hiding behind it. Her costumes reflect that delicate and empty China Doll existence, with stiffly perfect hair, perpetual pearls, and the same kinds of cool color tones that costume designer Janie Bryant often uses on Betty.
Compared to the other Mad Men women in her age group — Megan and Peggy, specifically — Beth Dawes looks older and younger at the same time. Her face glows like a child's, but her clothes and hair have none of the vibrant, bouncy fizz of the other women's. It's especially fun to compare Beth Dawes to her (marital) foil, Trudy: While Mrs. Pete Campbell is no stranger to dizzy, swirling prints and creamy pink lipstick to accentuate her wide smile, Mrs. Dawes wears dusty colors and a red, pouty lip that evokes both a girl playing dress-up and dangerous femme fatale. Towards the end of Beth's first indiscretion with Pete, there's a neat role-reversal thanks to their respective costumes. Lying on the floor, Beth looks like a baby doll with her massive eyelashes and carnation coloring, while Pete's bare muscles and matted chest hair are pretty age-appropriate. But once they get up, everything changes: Beth's beige silk blouse and matching pencil skirt scream certified grown-up, and Pete's white T-shirt and befuddled expression evoke a toddler waking up from his nap.
As for Megan-Watch, it's still going strong, thanks to a series of Why-Can't-I-Have-That costumes: The black and white houndstooth dress with mod silver button details, the green rain jacket, and the two-tone overcoat with the jeans and low heels she wears to acting class are all looks to covet. The gold-accented shoes she wears in the second scene are still available today at Bergdorf Goodman, thanks to the French label Roger Vivier, who was credited with designing the original pair — called "pilgrim pumps" due to their metal buckle — worn by Catherine Deneuve in the 1967 film Belle Du Jour.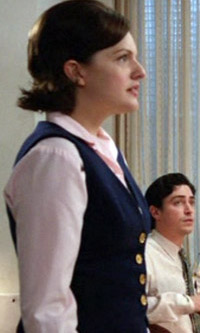 As Megan's clothes begin to look more sexy and carefree, Peggy's veer the opposite direction: Besides her normal pussy-bow blouses, she's even sporting a buttoned-up vest to the office (alas, Lane isn't in this episode, otherwise we could compare!). And despite her best efforts, the black dress with the neutral stripes that Peggy sports to the Cool Whip meeting is more airline stewardess than hotshot career girl. On the other hand, her most recent costume pieces — the stripes, the vest, the acid-green cardigan — bring her closer to her creative team partners, Stan Rizzo and Michael Ginsberg, who have fallen into a sweetly kooky simpatico with their Kenmore Fridge colors and nubby collegiate textures. Glad to see at least one team in this episode is completely in sync with each other.
Read More