Uncategorized
The Mad Men Fashion File – Around We Go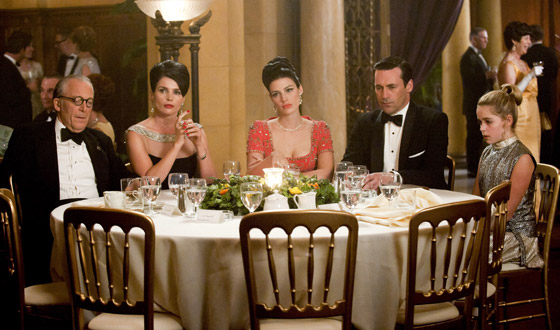 "Last night when I was feeding the kids spaghetti, I realized that my mother had made it for me, and that her mother had made it for her. And I got this picture in my head of her becoming me, like with one of those movie dissolves… I realized you could take it all the way back to cave men…and then the future." — Megan Draper, Mad Men, 1966
Much of this episode was about growing up, and all the cycles (both good and bad) we experience through our parents and pass on to our children. That idea fits the "Generation Gap" theme developing this season, but it also strings the older and younger characters together as part of one complex, volatile circuit. In this episode, there are three grandmothers (Pauline Francis, Marie Calvet, and Katherine Olson), eight mothers (those three, plus Joan, Peggy, Megan, Alice Geiger the Heinz Wife, and Mona Sterling) and six children (Sally, Bobby, Megan, Peggy, Glen, and Cynthia, whose father gives Don a bitter lesson about biting the hand that feeds you — something children do almost every day.) And let's not forget the moment when Megan plays a reverse role, tucking her own mother into bed and picking her burning cigarette out of her hand as if it were a stray toy.
So what does this have to do with the costumes? A lot, it seems.
Sally kicks off the episode in an A-line plaid skirt — classic schoolgirl, very cute, and perpetually in style for young women. (You can still buy them anywhere, from Barneys to American Apparel. This spring, Juicy Couture's may be the most traditional, but you can also source one for $15 at your local thrift store.) That skirt begins a check motif seen on The Daughters throughout the show: Peggy has two major plaid moments (a jacket and a wrap-dress, which even includes a pleated skirt and a school-appropriate oxford shirt underneath!), while Megan does checks the sexy, stylish way, with a cream-and-white overcoat — complete with a sharp black cap — that's very mod. (It's also very Balenciaga, circa their epic 2006 collection.) And yes, Don also wears plaid while standing in his hallway, waiting for his wife's parents, Madame and Monsieur Calvet, to stop fighting.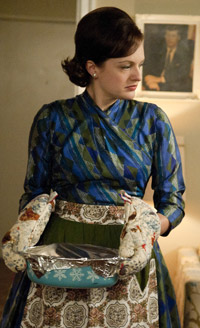 You can also trace the stripes through the Draper family in this episode: Start with Don's blue pajamas, then go to Megan's textured red-and-blue wool wrap-skirt in the next scene, and follow with Sally's red-and-blue striped dress in the Draper living room. (By the way, if you loved that piece, both Marc by Marc Jacobs and J. Crew make skirts in very similar striped color ways this season; Marc's even has a bit of metallic gold threading for a vintage, textured feel.) There was also a costume and character grouping of Joan, Peggy, and Megan — all headstrong daughters, all non-traditional mothers. Each had a lively colorblock moment, with Joan in the lilac/violet dress (an original design by costume designer Janie Bryant), Megan in her light pink/deep pink knit dress, and Peggy in her velvet lipstick pink dress and even bolder pink satin bow. I was disappointed Abe didn't propose, but also slightly relieved. Hopefully by the time Peggy gets married she'll have learned to pick a special occasion outfit that doesn't make her look like she's a child at an Easter party. I know I'm being a little harsh on Peggy. In truth, the costume she wore to cook dinner for her mother may have had a loud print, but the shape and color pattern were definitely in the right direction — and quite reminiscent of costumes worn by both Trudy Campbell and Megan herself. Meanwhile, Peggy's black and red-streaked dress in her first scene was — dare I say it — really sexy!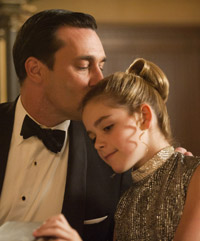 Finally, the big baton hand off in the fashion department goes from Megan to Sally, from one advertising event to another. In the group dinner with the Cosgroves and the Geigers, Megan saves the day in a creamy metallic jacquard ensemble, a high-necked woven gold collar, and a smudge of shimmery eyeshadow. In the following scene (the one I'm calling "Sally Draper: Style Icon" in my head…), Sally follows her stepmom's lead in her own killer metallic dress, cut with a similar high, shiny neckline, and her own shimmery eyeshadow! (Don makes her wipe that last part off, which is probably a good thing…) Look at the three generations of Drapers and Calvets at the final dinner table, and everyone shares a look of newly-discovered misery. Since their outfits have started to cycle through each other, it's only fitting their feelings do, too.
Read More