Uncategorized
The Mad Men Fashion File – You Don't Own Me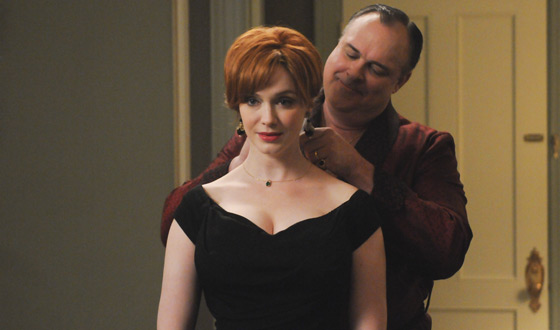 Let's start with the obvious: This episode is called "The Other Woman," and it sets up Peggy and Joan as polar opposites. Each woman is the other's inverse, an alternate-universe evil twin that only Ken Cosgrove's science fiction stories could imagine. This has always been true: Joan is more knowing, more assured of her feminine power, and more comfortable wielding authority. Her costumes reflect this, and costume designer Janie Bryant has famously said that Joan doesn't care what's trendy; she knows what looks good on her and sticks with it. In this episode, Joan wears a stream of curve-hugging dresses in rich, deep colors that prove it. She only breaks the rule once in this episode, when she wears an ink black cocktail dress to her carnal transaction. You might have noticed Joan topped that dress with a black fur. It's the same one Roger Sterling gleefully gave her when they first began their affair, and seeing Joan wear the fur in this situation brings us full-circle in a bitter cycle that went from sex to mutual admiration to unrequited love to Roger's betrayal during Pete's pimp-like partner vote… and now back to sex. (We can also mark it as another example of the "Venus in Fur" archetype that's been established this season. Joan follows both Jane and Beth Dawes as women having sex for complicated, conflicted, and ultimately unfulfilling reasons — and becoming more powerful and ultimately more dangerous to men because of it.)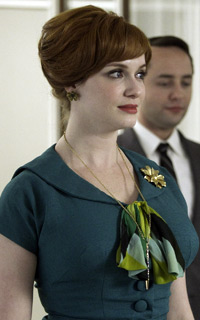 By the time Don arrives at Joan's apartment to try and stop her prostitution, it's all over. Joan's gone from fur to an emerald bathrobe, though even that feels tainted since it's the same color as the necklace she received from the greasy Jaguar exec. Funny enough, Joan wears green again in her final scene, when she joins the partner's meeting to celebrate their new client. The costume is gorgeous, bright, and fresh — but it's also a reminder of what she had to do to get there. (I guess I could go further and say that instead of emerald, the dress is a jade green, which represents Joan's now-jaded view of the men she used to trust and admire… but that might be overreaching. What do you think?)
Now let's deal with Peggy, who began as Joan's fledgling, then transitioned into Don's protégé, and finally flies out of SCDP and beyond their reach. Aside from her Season 1 encounter with Pete, she's been the character most skittish about using sex to advance her career, with many costumes that look more schoolgirl than career woman. This episode, Peggy's costumes were almost a mini-recap of her style thus far. She begins in her frumpy yellow cardigan and kindergarten-inspired plaid jumper, then progresses into a menswear-inspired blue blazer and checked scarf for her lunch with Ted Chaough.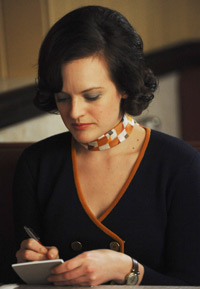 By the time we get to her epic resignation scene, Peggy looks gorgeous and more mature than we've ever seen her in a juicy plum dress, a slight swipe of pink lipstick, and a knowing "Attagirl!" smile. She may have been taking the elevator down to the lobby, but really, Peggy was moving up in every way. (Even her shoes, black slingback pumps that had a higher heel than normal Olson-wear.) Next up, a super-chic Vidal Sassoon bob for Peggy? Well, let's not get ahead of ourselves — she did clutch her mumsy hat and her grammar-school plaid thermos on the way out…
Finally, onto Megan Watch: Her costumes get younger and more casual the longer she stays at home, and seeing her stand next to Don Draper is becoming almost disheartening. They used to look like a power couple; now she looks like a babysitter from a very wealthy neighbor's house. Megan's "Audition Dress" was also slightly lackluster. I assumed she'd go for a superstar color like red or purple when vying for a big part, but her neutral dress made her look less powerful than a leading lady. Is Megan afraid of succeeding? Does she want to look more like a serious actress than a well-funded second wife? Or was she just trying to blend into the SCDP background because she's still conflicted and a little bit shy about her choice to leave? Perhaps we'll find our answers in next week's episode.
Read More