Uncategorized
The Mad Men Fashion File – Can't Buy Me Love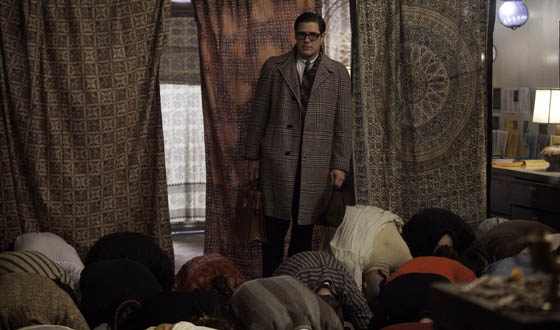 When the material world clashes with the realm of desire, the resulting chaos doesn't just affect people, but their wardrobes too. That's especially true in this episode, when behavior and fabric patterns often intertwine. Let's take Harry Crane as our first example, since this was a big week for him. Costume designer Janie Bryant often outfits the TV exec in jangly plaid patterns, and in this episode he wears them like armor. Check him out at the Hare Krishna center, wrapped in a plaid jacket over a plaid scarf over a plaid blazer. When you see him standing up against the equally chaotic mismatched tapestries all over the prayer room it's a real brain bender. The funny thing is, in Harry's final scene — when he gives Kinsey an envelope full of money and tells him to escape the Krishnas, essentially doing something selfless for the first time in a while — his coat and his tie, though still patterned, look great together. He's achieved a kind of outer harmony, and maybe some inner peace too.
Meanwhile, Lakshmi has a similar "Bohemian Zombie" vibe (and a similar birdlike bone structure) to Don's artist-friend-turned-heroin-addict Midge. But Lakshmi's costume also has a direct link to someone else: Lane Pryce. Look at Lakshmi's silk red robe embroidered with golden medallions all over it. Lane's tie is also red with gold embellished circles stamped across the fabric. (You can see it spotlighted when Lane forges Don's signature on a check.) I call this repeating pattern "The Medals of Dishonor," and they tie Lane and Lakshmi together pretty well. Both do something they claim is for someone else's benefit — sex, Christmas bonuses — but really it serves their own secret purpose the most.
This episode, Joan sported a classic costume hit: The brown rose dress. It's a gorgeous piece, but this time it represents more than just excellent taste and a killer hourglass figure: It evokes all the dead and faded flowers that Joan once got from past suitors. Flowers also appear in Joan's gold jewelry, and eventually on her desk, when Don sends her a fresh bouquet of roses. By that point in the story, though, Joan's put away her floral patterns and moved on to a green jaguar print dress instead (how fitting!). It's sexy, it's pretty and, like Don shifting gears in the actual Jaguar, it appears when she's back in control.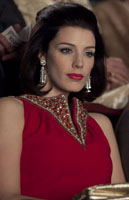 Other fun fashion notes:
1. When Rebecca and Lane are running around in their stuffy British nightgowns, they actually do look like Scrooge and a ghost of Christmas past.
2. The dark suits the actors wear onstage during the experimental theater performance mirror the one in Mad Men's opening credits, especially when the actors all crash to the floor.
3. Lakshmi's robe is red, but only two women wear red dresses in this episode: Megan, and the fetching new secretary appropriately named Scarlett. Discuss!
Read More