Interviews
Q&A – Christopher Stanley (Henry Francis)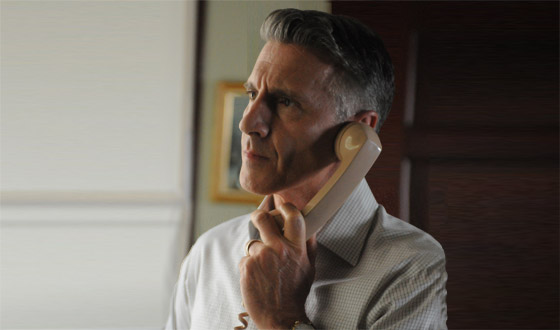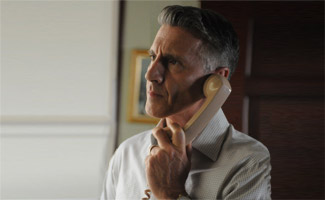 Christopher Stanley, who plays Henry Francis on AMC's Mad Men, speaks with AMCtv.com about Betty's weight gain and the importance of coming to terms with your own identity.
Q: Were you as shocked as the audience by Betty's weight-gain storyline?

A: I knew that Matthew Weiner was going to have to come up with some sort of creative solutions to January's pregnancy. I had all kinds of things running through my head, and I think that was one of them.
Q: How did it affect your scenes with January Jones?

A: We had a few laughs about the fat suit… It's not real skin, and it's on her neck… There's one scene where Henry goes to kiss her on the neck and, I'm not going to sugarcoat it, it's odd. [Laughs]
Q: Henry is an extremely supportive husband. Do you model him after anyone you know?
A: I think it's part of who I am, a little bit. I would love to be able to say that I even have a fraction of Henry's tolerance but I don't. I think I have some of his compassion and his empathy for people.
Q: Are the Francis house scenes shot in a real house?

A: It's a real mansion in the USC area of Los Angeles… The kitchen is a set on the studio lot, but the rest of the house we shoot at the house. They did an incredible job with that kitchen to make it match the grandiosity of the house.
Q: Don calls the house a haunted mansion at one point. Is it creepy?

A: No, not at all… But I thought those comments were funny. This was a house that people of a certain status lived in at some point. I know that's very different from what we call a home today, but I thought it was grand.
VIDEO: Janie Bryant on Betty's New Wardrobe
Q: Henry is a politician. Has the show increased your political awareness?

A: It's made me more aware of what's going on behind what we see on television. Henry is a kingmaker… so it's made me a little bit more aware of how these politicians are made and how they're presented to the public.
Q: You had a very poignant line in the Season 4 finale, "There is no fresh start, lives carry on." Do you think that's held true this season?

A: I think that's true always. When Henry said that, what he really means is you cannot move forward unless you reconcile the past and come to terms with who you are.
Q: In Episode 3, Henry decides not to tell Betty that Don called. Are there times where it's okay to hide something like that from a partner?

A: It's never a good idea, because it's always going to come back and bite you at some point… But Henry feels a little bit stuck between Don and Betty, and it makes him nervous whenever the two of them have to talk. It almost inevitably turns into an argument or some sort of disruption in the house. And he's constantly negotiating that.
Q: Henry is a "no drama" kind of guy…

A: He is. If he can quell the waters for a while until the both of them can grow up enough to have a civil conversation then he'll do whatever he has to do to protect Betty.
Q: If you weren't playing Henry Francis on the show, who would you want to play?

A: Not that I could ever do it justice, but I'd love to play Roger… The humor, the devil-may-care attitude, the smoking and drinking constantly. He's the polar opposite of Henry, so it'd be fun to try to do something that is that different.
Q: You're portraying a CIA operative who was taken hostage in the upcoming film Argo. Any similarities to Henry?

A: This was a physical role. It was very different from what I'm doing on Mad Men. It was a nice change-up for me to run down and storm doors inside the embassy and try to shred documents.
Click here to read an interview with January Jones, who plays Betty Francis on AMC's Mad Men.
Read More