Uncategorized
1960s Handbook – America Hurrah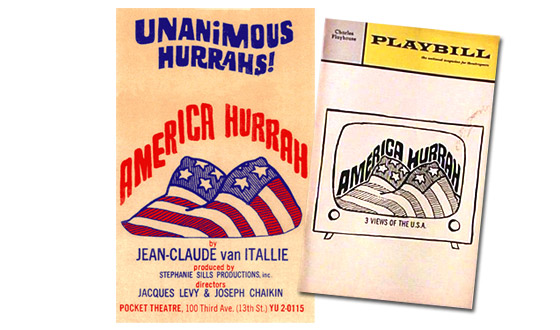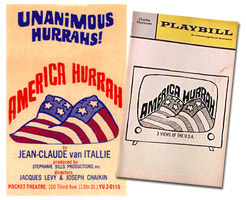 In November 1966, an experimental satire titled America Hurrah jolted New York theater audiences with its nonlinear exploration of social alienation. High praise from mainstream critics — "An off-Broadway trip through an air-conditioned blightmare towards an icy emptiness at the core of American life," waxed Time magazine's reviewer — turned the show into an instant must-see hit that ran for more than a year.
Composed of three loosely connected one-act plays written by Jean-Claude van Itallie, America Hurrah begins with "Interview," a critique of the standardized roles that people assume to make it through life. In this segment, four employment-agency interviewers interrogate four job applicants. The eight participants blurt out rote dialogue in fugue style, failing to connect in any meaningful way. Media theorist-guru Marshall McLuhan's 1964 book Understanding Media heavily influenced the play's second act, "TV," which takes place at a television-ratings company. The second act juxtaposes images related to the Vietnam War with the banal scenes and chatter of network television shows.
America Hurrah's much-lauded third act, "Motel," bashes consumerist culture, literally: While a motel owner spouts platitudes, a man and a woman destroy the room they've rented. All the actors in "Motel" wear doll costumes (designed by a young Robert Wilson), accentuating the inhumanity of their words and actions.
In a theater season that also included the debuts of classics such as Edward Albee's A Delicate Balance, Harold Pinter's The Homecoming, and the musical Cabaret, America Hurrah stood out as much for the way it was created as for its message. "Interview" and "TV" were developed at off-off Broadway workshops run by the actor-director Joseph Chaikin, whose ensemble improvised situations and emotions for which van Itallie later provided a dramatic structure. Chaikin, who disdained the Method, the era's preeminent acting style, distrusted traditional, writing-driven theater. Truths about life, he believed, were more likely to emerge through movement, poetry, dream logic, intuition, and improvisation than via prose texts.
"We were discovering in the sixties that we had been lied to by the establishment in every way," van Itallie explained years later. "Yet the very words we were being lied to with, still we had to use them to speak." America Hurrah was not the first play to employ expressionistic techniques to get at the truth, but it acclimated audiences and many critics to the postmodern perspectives of Sam Shepard (a longtime collaborator of Chaikin) and other late-20th-century playwrights.
Read More