Uncategorized
1960s Handbook – The Trade Winds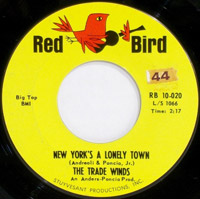 In the mid-1960s, Peter Anders and Vini Poncia formed the group The Trade Winds, recording surf-tinged sounds for Red Bird, the label founded by famed Brill Building songwriters Jerry Leiber and Mike Stoller. Anders and Poncia (born Peter Andreoli and Vincent Poncia Jr.) had made it onto the Billboard Top 100 rock chart previously with the 1960 single "Mister Lonely," recorded by their group The Videls and in collaboration with the legendary Phil Spector on the 1964 Ronettes' single "(The Best Part of) Breakin' Up" among others.
The Trade Winds' biggest-selling Red Bird effort was "New York's a Lonely Town," which laments about being "the only surfer boy around." The single peaked at No. 32 on Billboard's Top 100 in February 1965, leading the group to sing it on the popular ABC music show Shindig! in March. The Trade Winds, which also included guitarist Norman Marzano, a pal from The Videls, reprised the New York theme for "The Girl from Greenwich Village" in 1966, but rhymes like "She drives a Mercedes that scares the old ladies" didn't catch on so the song didn't chart.
After Leiber and Stoller shut down Red Bird, The Trade Winds signed with Kama Sutra Records and renamed themselves The Tradewinds. The single "Mind Excursion," from the 1966 album Excursions, became a mild hit with lyrics that seemed to hint at self-medication: "You've got your ticket to glide, and while the sun's getting brighter, your head's getting lighter." The Tradewinds disbanded in 1967.
Anders and Poncia later formed The Innocence and also recorded together under their own names. Anders withdrew from the music business in the early 1970s, but Poncia continued to write songs for artists such as Ringo Starr, KISS, and Leo Sayer with whom he co-wrote the disco anthem "You Make Me Feel Like Dancing."
Read More