Uncategorized
1960s Handbook – The Naked Prey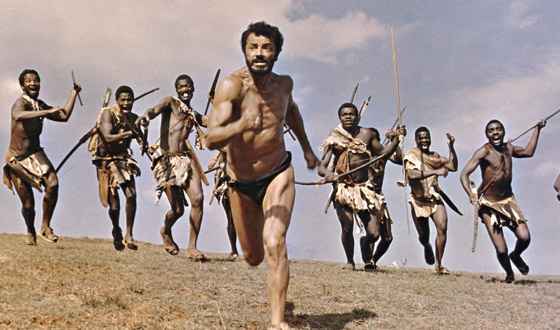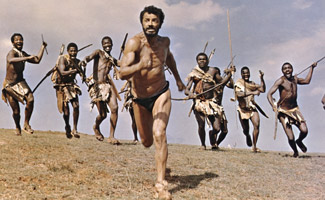 Hunter becomes hunted in Cornel Wilde's gripping chase film The Naked Prey (1966), an adventure tale set in the wilds of southern Africa. The plot is brutally simple: the leader of a safari group insults some local tribesmen, who torture and kill everyone in the party except Wilde, the safari's guide. The tribesmen then strip Wilde of his clothes (save for a fetching loin cloth) and set him loose in the jungle, pursued for sport by a posse of warriors.
The Naked Prey trailer's voice-over details the rest of the story: "Helplessly trapped and hunted like an animal, his life becomes a desperate struggle against impossible odds." Which is to say one "thrill-a-minute" chase scene after another, punctuated by Technicolor shots of the African bush country and gritty footage of animal-to-animal savagery and kills by the humans.
The Naked Prey is based on the legend of the trapper John Colter, a mountain-man guide for the explorers Lewis and Clark. Shortly after the duo's famous expedition, Colter was captured by the Blackfeet Indians and survived a similar challenge. The Naked Prey transfers the story to 19th-century Africa in part because Wilde, also the film's director and producer, received financial and other assistance from the South African government.
Wilde's varied acting career included playing Chopin in A Song to Remember — for which he received his only Academy Award nomination, as Best Actor — and roles in film-noir classics such as Road House (1948) and The Big Combo (1955). In the mid-1950s, Wilde began producing and directing films that he also starred in. The Naked Prey is the most noteworthy of these, though the crime drama Storm Fear (1955), with a screenplay by a young Horton Foote, is beloved by noir aficionados.
Film essayists have been known to wax poetic about Wilde's efforts in The Naked Prey — "in nearly every frame, you smell the sulfur of his conviction," writes Michael Atkinson, for instance. Even today the movie is respected as one of the top survival-of-the-fittest exploits ever seen on the silver screen.
Read More