Press
EW Loves Jon Hamm Bowling; Christina Hendricks One of People's Most Beautiful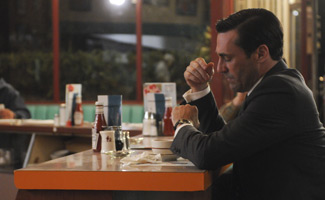 This week, Jon Hamm bowls a strike against the Nerdist team on Chris Hardwick's All Star Bowling, and People names Christina Hendricks, Jessica Paré and January Jones to their list of the world's most beautiful women. Read on for more Mad Men news.
• Entertainment Weekly highlights Jon Hamm's turn on Chris Hardwick's All Star Bowling: "To the already superhuman list of things Jon Hamm can do…we have a new addition: The Mad Men star can effortlessly bowl a perfect strike."
• Christina Hendricks is named by People as one of the world's most beautiful women. Naturally, Jessica Paré and January Jones are on the list too.
• Jessica Paré is cheered by TV Guide for "holding her own opposite Jon Hamm and Co. as Don Draper's smart and slinky new wife, Megan." (No Link.)
• TV Guide calls Mad Men "quite simply, still the best drama anywhere on TV" — and has high praise for Jared Harris and Alison Brie in their other TV exploits.
• The Huffington Post enjoyed seeing Jared Harris on both AMC's Mad Men and FOX's Fringe last weekend: "If anyone could appear in two completely different shows playing two completely different people, it's Jared Harris."
• The New York Daily News names Mad Men one of the best things on TV.
• Mad Men returns to the top of The Hollywood Reporter's weekly power rankings.
• USA Today is a fan of John Slattery, proclaiming that "[Roger Sterling's] dialogue is the highlight of every episode."
• John Slattery speaks with Slate re: Season 5, Episode 6, "Far Away Places," noting that "it's interesting that of all the people that could have taken LSD or had that experience, that it was Roger."
• To CNN, Vincent Kartheiser says of Matthew Weiner, "I trust him like I've never trusted any writer or creator that I've worked with."
• Rich Sommer talks to New York Magazine about his character, Harry Crane: "I have no power over what happens to Harry. Whatever the opposite of power is, that's what I have." Sommer also chats with E! Online and discloses, "The writers were really great with Harry this year. They were super generous."
• In its round-up of what to watch on TV, USA Today calls Kiernan Shipka a "gifted young actor." TVLine has a sneak peek of Shipka's turn (as herself) on ABC's Don't Trust the B— in Apartment 23. Shipka talks to The Huffington Post about doing comedy vs. Mad Men.
• In light of Don and Megan's road trip in Season 5, Episode 6, "Far Away Places," the New York Daily News takes a look at the vanishing Howard Johnson's restaurant. Meanwhile, Zap2it examines the episode's Howard Johnson's stand-in (once an actual Howard Johnson's) and notes that Howard Johnson's is offering a free one-night stay to anyone named Don Draper.
• The Baltimore Sun notes Baltimore connections in the LSD scene in Season 5, Episode 6, "Far Away Places."
• Slate offers a look at the Mad Men title sequence through the eyes of its designers.
• Teyonah Parris (Dawn) tells The Urban Daily that Jon Hamm is "cool people."
• Business Insider spotlights five small business lessons gleaned from watching Mad Men, such as "Don't depend on one customer for all or your major part of your business."
• Jon Hamm would like to switch places for a day with his animated character on FOX's The Simpsons, according to FOX News.
• Check out Broadway World for a clip of Robert Morse presenting at the 1960 Tony Awards.
• For recaps and reviews of Season 5, Episode 6, "Far Away Places," check out A.V. Club, CNN, Entertainment Weekly, E! Online, HitFix, The Hollywood Reporter, Indiewire, the Los Angeles Times, New York Magazine, The New York Times, Rolling Stone, The Star-Ledger, Time, TVLine and Zap2it.
Read More