Press
John Slattery and Kiernan Shipka Visit Jimmy Fallon; Jon Hamm Hits the Red Carpet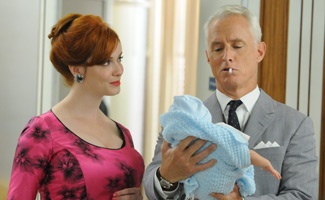 This week, Late Night With Jimmy Fallon hosts two Mad Men cast members in a row, while Jon Hamm is spotted sporting a beard. Read on for more Mad Men news.
• John Slattery appears on Late Night with Jimmy Fallon, chatting about directing Jon Hamm and judging a fried chicken contest. Kiernan Shipka also visits the Jimmy Fallon set, and Fallon tries to help her with a title for a song she's working on.
• Jon Hamm tells Total Film magazine, "There's a lot of [Don's] past still to be mined, and a lot of that is revealed and explored this season." Zap2it speaks with Hamm, who says he knows a bit about the '60's because of his older sisters. Meanwhile, the Daily Mail has red carpet photos of Hamm wearing a "smart" suit and sporting a "grisly" beard.
• Vanity Fair talks title credits, calling Mad Men's opening sequence "thoughtful, seductive, and meticulous."
• The Atlantic interviews John Slattery, who claims his quintessential Roger Sterling moment is the "scene where Don and Roger are eating oysters and drinking martinis."
• According to The Hollywood Reporter, January Jones will switch to Best Supporting Actress category in the Emmy race.
• Ben Feldman (Michael Ginsberg) has a wine label, Angelica Cellars, and he tells The Hollywood Reporter how Mad Men has helped: "There's been extra attention [on the brand] since I've been on the show."
• The Los Angeles Times interviews Teyonah Parris (Dawn), who says Jon Hamm and Matthew Weiner were at her callback: "I was not expecting to walk into that." Zap2it also speaks with Parris, who did some research by interviewing her grandmother, a Manhattan office worker in the 1960's. Parris talks to Sister2Sister Magazine and Wetpaint too.
• Rich Sommer chats with Ology about Mad Men's sense of humor: "I do think the tone shifts throughout the season, it stays funny, but the humor-to-darkness to ratio shifts."
• The Hollywood Reporter says the plaid sportcoat Don wore to Pete and Trudy's dinner party was "cutting-edge fashion for men as they began to break out of conventional '50s suits and ties."
• Tom + Lorenzo examine the show using fashion as a lens.
• According to Ad Age, Jaguar was pleasantly surprised by the car's mention on last week's episode of Mad Men.
• With mention of England's World Cup win, The Washington Post notes, "For those who love soccer and AMC's Mad Men, your worlds collided Sunday night in an otherwise racy episode."
• André & Maria Jacquemetton tell Slate about choosing historical events for Mad Men to focus on, specifically the Richard Speck murders and the Charles Whitman Texas tower massacre in the last two episodes.
• MTV spotlights the "absurd amount of nerd-out moments" in last week's episode, from the title ("Signal 30") to Lost co-creator Damon Lindelof's fan-fiction tweets about Ken's sci-fi stories.
• Zap2it tracks down where you've seen all the guest stars on last week's episode, from Larisa Oleynik (who plays Ken's wife) to Parker Young (who played "Handsome" in Pete's Driver's Ed class).
• Forbes looks at the behavior of women in the office against the backdrop of Peggy extracting $400 from Roger in last week's episode.
• The Detroit Free Press thinks we "haven't come far enough" since the Mad Men era.
• Dread Central spotlights a new mash-up that likens Mad Men to the trailer of The Cabin in the Woods.
• The Associated Press interviews Mad Men's set decorator and production designer to show fans how they can re-create the show's style at home.
• The Columbus Dispatch examines the phenomenon of viewers watching "epic marathons" of TV shows like Mad Men.
• MediaPost asserts that Mad Men is elevating television, noting that the series continues to "raise its own bar."
• The Hollywood Reporter says that Jared Harris has been cast in The Quiet Ones, a horror/thriller which starts shooting in June. Harris also speaks to Radio Times and says that Mad Men is "all in the subtext."
• Deadline reports that January Jones has signed on to star with Ed Harris in a film called Sweetwater.
• For recaps and reviews of Season 5, Episode 5, "Signal 30," check out A.V. Club, CNN, Entertainment Weekly, E! Online, HitFix, The Huffington Post, Indiewire, New York Magazine, The New York Times, Rolling Stone, The Star-Ledger, Time, TVLine, The Washington Post and Zap2it.
Read More