Press
NY Times Explore Don's New Home; "Zou Bisou Bisou" Shoots to Top of iTunes Chart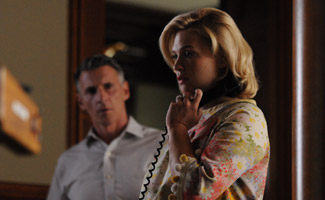 This week, The New York Times and the Los Angeles Times look at the intricate details of Don and Megan's apartment and CBS discusses what a cancer diagnosis meant in the '60s. Read on for more Mad Men news.
• The New York Times takes a look at Don and Megan's Manhattan apartment, noting, "Don Draper finally has a home befitting a 1960s ad executive." The Los Angeles Times speaks about the space's details with the show's set decorator.
• The Boston Globe reports that "Zou Bisou Bisou" has "shot to the top of iTunes' most downloaded chart" the day after the Season 5 premiere.
• CBS News examines what Betty's cancer treatment would have entailed if her tumor had not been benign.
• Vanity Fair cites Mad Men as an example of why "TV is where the action is, the addictions forged, the dream machine operating on all cylinders."
• People has five facts about Jessica Paré, "Mad Men's newest lady on the block," while Digital Spy has a list of 10 things to know about Jon Hamm.
• Matthew Weiner appears on NPR's "Fresh Air Weekend."
• The Hollywood Reporter discusses Betty's weight gain.
• The Hollywood Reporter points out that Don wasn't just making it up when he said the Rolling Stones did a cereal commercial. (It was for Rice Krispies.)
• DIY learns more about Jon Hamm in a two-part interview.
• USA Weekend interviews Jared Harris about playing period characters, like in Mad Men and the film Lincoln.
• Jon Hamm and January Jones tell UPI what they did during Mad Men's recent hiatus.
• January Jones does a Q&A with the Star-Telegram.
• The Atlantic talks to Janie Bryant about her design process for Mad Men.
• A contributor to The Huffington Post becomes newly-obsessed with Mad Men.
• The Huffington Post presents the battle of the Sunday night cable dramas, with an argument supporting Mad Men. Similarly, The Daily Beast imagines what would happen if "the ad men and women of Mad Men were forced to fight to death with their counterparts in the Seven Kingdoms of Westeros?"
• TheWrap has a video of Breaking Bad's title sequence done in the style of Mad Men's credits.
• Since Mad Men has made early '60s fashions so popular, Forbes wonders whether the drama can sell the stylings of the late '60s.
• Zap2it spotlights Ben Feldman, who joined the cast as Sterling Cooper Draper Pryce's newest copywriter.
• Obsessed With Film sees similarities between Don Draper and Star Trek's Captain Kirk.
• For recaps and reviews of Season 5, Episode 3," Tea Leaves," check out The Baltimore Sun, BuzzFocus, Cinema Blend, Complex, Digital Spy, Entertainment Weekly, E! Online, HitFix, The Hollywood Reporter, The Huffington Post, Indiewire, Jezebel, MassLive.com, The New York Times, The Oregonian, Rolling Stone, ScreenRant, Slate, The Star-Ledger, Time, The Wall Street Journal and The Washington Post.
Read More