Uncategorized
Q&A – Jared Harris (Lane Pryce)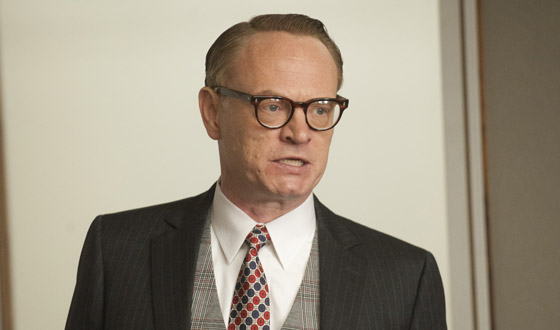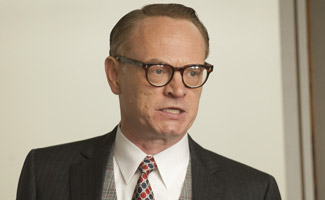 Jared Harris, who plays Lane Pryce on Mad Men, speaks with AMCtv.com about whether his character is a rebel and what memento he's kept from the set.
Q: Do you think of Lane as a rebel?
A: I think he excites himself with thinking that he is. He's trying to be one of the boys, trying to live their lives, and fit in in that way.
Q: You re-watched Season 4 to get ready for Season 5. How did it strike you?
A: It's so well-written… Such a massive amount of detail is put into the authenticity of every single character line's progression. And if you dig down into it, you'll discover answers to why Matt has you say things that are slightly strange. There are clues in the dialogue.
Q: There are a lot of group scenes in the office. Are those fun to shoot?
A: They're great fun except for the conference room scenes. It's just a pain in the ass to shoot around that table. You have to get sight-lines correct and then you have to figure out who's on the right and who's on the left. It's really, really complicated to do and it takes a phenomenal amount of time.
VIDEO: Jared Harris on Fighting for Dignity in Episode 5, "Signal 30"
Q: Have you ever kept a memento from the set?
A: Let's see… I've got a Lane Pryce business card.
Q: Is it in your wallet?
A: No. It's at home. I keep mementos from everything I've done. I've got my cab driver's license from Happiness. I've got a pair of glasses and a belt buckle from playing John Lennon. I've got a pair of sunglasses from playing Andy Warhol… It's all in a box in the garage.
Q: Having British theater training, do you think you approach your role differently than your American castmates?
A: Moving outside of your comfort zone is one thing I learned from my training as an actor in England… [English drama schools] put you in as many different plays as they can and you figure out which ones you have a natural affinity to and which ones you don't, and why people succeed in the ones you don't. Then you go to the pub with your classmates and you ask them, "How did you figure that out? "
Q: Do you think your classmates are surprised at the roles you've ended up playing?
A: Weirdly, the principal at my drama school said I would never be able to play a part like [Lane]… I had a problem in my mind about these guys, that they sort of had no balls and they weren't real people. He said, "Unless you're going to treat these people as being real people, then you'll never really play them."
Q: So the counter-cultural figures like John Lennon and Andy Warhol that you've played come more naturally to you?
A: Yeah… I wanted to be demonstrative and was basically looking to overact. [Laughs]
Q: Have you figured out how to have fun with a character like Lane?
A: The pressure is fantastic! For me, the pressure that's created from holding all that stuff back, it's something that really pays off on camera because you're not having to hit the back of a hundred-seat house. The camera is right there and can capture all the internal conflicts of having to behave in that way.
Click here to read an interview with Vincent Kartheiser, who plays Pete Campbell on AMC's Mad Men.
Read More