Uncategorized
Q&A – January Jones (Betty Francis)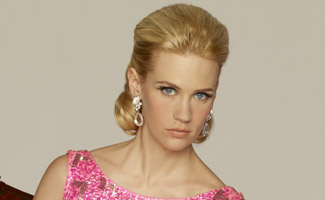 January Jones, who plays Betty Francis on Mad Men, speaks with AMCtv.com about making personal style into an art form and saying goodbye to the Draper house.
Q: You did X-Men: First Class during the break. How was that different than doing Mad Men?
A: There's a luxury of time on a film. Getting used to the pace going from one to the other is challenging for me. I literally went from the set of Mad Men to packing and then the next day going to London to do X-Men. So I was on this huge massive blockbuster set and doing half a scene in a day versus eight pages a day on Mad Men. I was like [snaps fingers], "Come on people! Let's get this thing going!"
Q: Was it not a little more relaxing in some ways than doing Mad Men?
A: I have sort of grown to love the way we do Mad Men because it's so regimented that it feels good. I just do well with barriers I think and being given a tight time frame. You're given the script, and the next day you start shooting. Your brain starts working faster, and it's kind of amazing.
Q: What's a favorite scene of yours from the first four seasons?
A: The one I remember the most was the one we shot last [in Season 4], which was the one of Jon [Hamm] and I in the kitchen [at the Ossining house]. It was really emotional and sad and really special for Matt [Weiner] and Jon and I to shoot just because it was the end of an era.
Q: And then you had to watch them break down the set for the house…
A: Yeah, and then to see the Draper house go away was really sad. I was like, "Can I keep that! Can I keep that?" I tried to keep some things, but everything has their place I was told.
VIDEO: Costume Designer Janie Bryant on Betty's Style in Episode 3, "Tea Leaves"
Q: Betty's world is very separate from what goes on in SCDP. Does it also feel that way on set?
A: Yeah, for me it often feels like a whole different show… Oftentimes I don't see the other cast members except at the table read. It can be bizarre, but it also makes it fun for me because I don't get to see what everyone else is doing, so when I watch the episodes, I'm an excited fan.
Q: After five seasons of dressing as Betty on the show, has her style has influenced your own?
A: I don't wear anything that looks '60s any longer, because I don't want to look like I'm roaming around as Betty, like I'm a method actor. [Laughs] It's hard because I love vintage fashion and…it's even harder now because designers have brought that silhouette back, which is obviously very flattering to the show. But I'm like, "What do I wear?"
Q: The '60s were all about having every hair in place and your eyeliner drawn on just right. Is that something you're used to doing, being in the public eye?
A: I like to be a little bit edgier and a little bit more messed up. And I like to change my fashion every day…that's an amazing freedom that we have now, that there's no real set style. It's just however you want to represent yourself each day. It's kind of an art form.
Q: Do you enjoy the kind of '60s cocktails you guys are always drinking on the show?
A: I'm a beer girl…but I know there are certain bars and restaurants that have Betty cocktails now, which is so neat.
Q: Do you think Betty is finally aware of the women's movement?
A: I think she's aware of it now… But it's hard to break the mold. I think the audience struggles to feel sympathetic towards her, which I find sort of odd. I think she's finally trying to get out of that Stepford Wife persona, and I think people were more sympathetic to her when she wasn't [trying]. I'm more defensive of her now because I have to be. Before, everyone was like, "Oh, poor Betty. We love Betty!" And now people think she's terrible, and she's just a bad mom, and she's just mean.
Q: You've taken your baby, Xander, to the set. Did any of your castmates surprise you as being baby people?
A: Well Jon has always been great with kids — that didn't surprise me. Matt is baby crazy! He comes up and gets his fix with the baby every once in a while. He's got four of his own, so he loves babies. Christina [Hendricks] and Lizzy [Moss] were both really excited to meet him for the first time.
Click here to read an interview with Jon Hamm, who plays Don Draper on AMC's Mad Men.
Read More