Uncategorized
The Mad Men Fashion File – Fight for Your Right to Fashion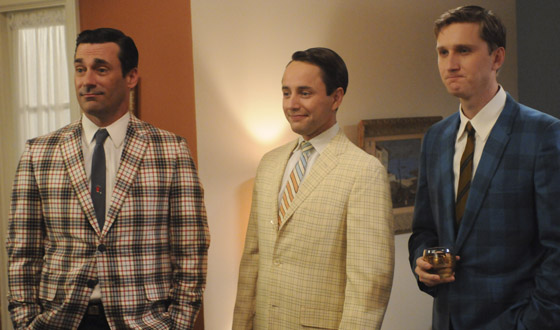 We knew it was trouble when Megan asked Don, "Why don't you wear that sport coat I got you?" And wow, we were right. Don Draper wearing a nutty plaid jacket — and standing next to Ken Cosgrove and Pete Campbell in similar Kentucky Derby getups — was jarring and sweet all at once. Finally, Don has compromised his ego for love, and he's advertising his choice loud and clear with this ridiculous outfit. Of course, the true Don comes out once the Campbell kitchen starts to flood, and our man of the hour strips down to his trademark T-shirt. "Look!" Cynthia cries. "It's Superman!" Well, sort of — it's actually Dick Whitman, though much like Clark Kent, he too has an alter-ego capable of extraordinary things. (Ken Cosgrove's double life gets the same kind of allusion in his final shot: We see him writing under a pen name in the exact same getup on his bed at home.)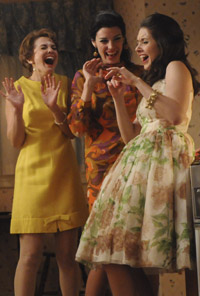 One last note on the dinner party scene: Seeing Trudy and Megan standing together was both sweet and sad. Megan's dress was fun and very fashionable; Trudy's would have been fun and fashionable if it were three years earlier. (But it's still awfully pretty.) Trudy's other big dress in this episode had a wild '60s print but a more conservative mom-in-the-kitchen silhouette, a nice indicator that while she's still young and aware of what's in her Vogue magazines, she's more committed to a traditional role than an of-the-moment attitude. The idea of a split-personality outfit also makes an appearance on Peggy this episode, when she sports a mod printed sleeveless blouse on top and a boxy pleated beige skirt on the bottom. The sleeveless shirt looks like it could belong to someone hip and fashion-forward like Megan (or, paired with some skinny black jeans and a low-heeled brown bootie, to many young women heading into work today). The skirt looks like a frumpy Catholic schoolgirl castaway. Put them together, and you've got Peggy's essential conflict: How can she accept (and even enjoy) her youth and womanly advantages, yet still appear smart and committed to her career?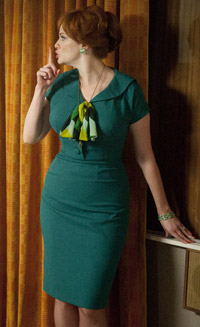 Speaking of commitment, Joan is back, and so are her signature outfits. She pulls out her greatest hits: A pair of siren separates in lipstick red, and a jade green dress with a flouncy pussy bow that looks similar to Peggy's trademark ties, but does the opposite. Instead of covering Joan's figure, this accessory seems positioned to flaunt her substantially luscious assets. And we rejoice, because the Pen Necklace is back!
Of course, this episode really belongs to the men, and their costumes don't disappoint. Bert Cooper looks more like Monopoly's "Mr. Moneybags" with every board meeting, and Roger's crowning pocket square has taken on the cocky but ultimately powerless signal of a rooster's coxcomb. Meanwhile, the battle between Lane and Pete played out in their outfits as well as their punches: Even when kicking the crap out of someone, Lane's vest remains buttoned up. Meanwhile, Pete's tucked-in tie made him look even shorter, and his matted-down hair evoked the same colicky image as Joan's fussy baby. Pete has long acted like the spoiled kid in church who won't share his lollipop — now he looks like one, too, especially when crammed into the elevator with his involuntary mentor, Don. "You Can't Always Get What You Want" won't be released until 1969 — hopefully by the time the album comes out, Megan won't be the only character who buys Rolling Stones records.
A final thought: Pete's hooker had incredibly great leopard-print lingerie. With her giant plastic earrings and hysterical "You're my king!" come-on, it seemed (appropriately) trashy. But played down with a hint of smoky eyeliner and hidden under a pair of jeans or a simple black dress, it would suit any body type and looks quite similar to the kind sold now at Victoria's Secret — and I'm betting this week they'll see quite an uptick in sales!
Read More