Uncategorized
The Mad Men Fashion File – Dying for Style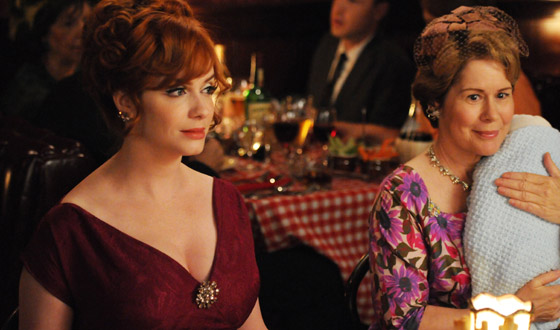 This week, an obsession with dead girls wasn't just for The Killing. It seeped into almost every scene of Mad Men's "Mystery Date," too, thanks to the Chicago student nurse murders that haunt this episode. We even begin with the ghost of a dress — Andrea's lemon yellow shift looks like Megan's dress from last week! The outfit's "been there, seen that" quality, coupled with the slightly aggressive accessories (white gloves, orange shell necklace and matching round earrings), make Andrea seem a little bit over — and for Don, she is. When she turns up at his apartment wanting sex, it's a bit deja vu; when she ends up "dead," it's almost like the outfit is a self-fulfilling prophesy.
Another allusion to the murders is everywhere in the episode: pajamas, referencing the young women taken from their bedrooms at night. I counted five total: Joan (who has two), Peggy, Pauline Francis and Sally. The shot of Sally asleep under the couch is particularly poignant, as that image recalls the lone student nurse survivor who hid under the bed to save herself. It can't be an accident that despite appearing in the previous two episodes in pajama pants and a top, Sally's actually wearing a nightgown this time — since it's a little big on her, she looks even more fragile than usual.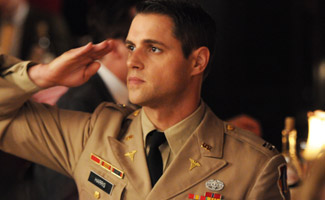 As for Joan, a continued theme of black and red roses dotted many of her costumes, as if she was literally growing thorns. And each color she wore felt like a defiant contradiction to her husband's army uniform. Her turquoise robe blazed in front of his olive green outfit; her wine colored dress at dinner outshone all of his military pins combined; her black and blue negligee was so beautiful, it shamed his plain white T-shirt and made the visual case for Joan's mental one: that any part of him wasn't good enough for her. In the episode's last scene, as Joan lies awake you see her high heels kicked to one side of her bed — this Cinderella is saving herself, and needs both her stilettos to do it.
On a lighter note, did you notice Peggy's tie? Last week, her colorblock outfits mirrored Megan's, but this week her kooky floral print pussy bow was a nifty riff on Ginsberg's trademark wacky neckwear. (It also looked an awful lot like Miu Miu's popular daisy prints from last spring — so Peggy is a secret trend czar after all!)
Read More