Uncategorized
The Mad Men Fashion File – A Tale of Two Zippers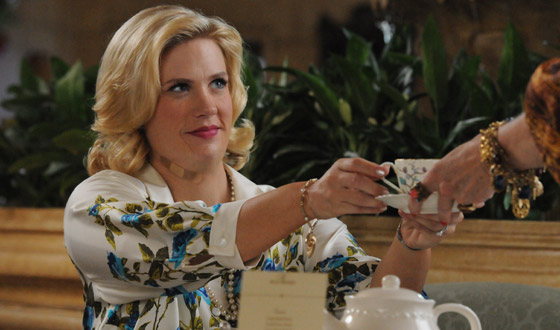 Here's a first: Betty Draper can't fit into her dress. It's quite a shock for fans who held Betty's physical appearance as a given, almost a piece of armor. Sure, she's terribly conflicted and sometimes she makes questionable decisions, but she's always beautiful. (Even when she was pregnant, Betty managed to retain her porcelain neckline and incredible sense of style — or as Roger Sterling memorably exclaimed, "Grace Kelly swallowed a bowling ball!") Now Betty can't squeeze into a dress that used to fit her perfectly, which seems like a pretty strong metaphor for her current emotional state. Here she is in a Roosevelt-style mansion, with a husband who worships her, a daughter who (finally) appears to be behaving, and what seems like an unlimited supply of Tiffany charm bracelets… and she's still not happy. Betty's fenced-in feeling echoes through almost all of her costumes: Her pink patterned jacket makes little boxes all over her body; her quilted pink robe does the same. Even Betty's lipstick, which matches her various pink outfits perfectly, feels like a bit of a handcuff: She's locked into everything in her life, even her makeup.
Fast forward to scene two, where Don goes to zip Megan's cocktail dress before their dinner with Heinz. It closes instantly – quel surprise! But Betty isn't Megan's only foil. Once again, Megan is thrown up against Peggy Olson, this time in a war of the colorblocks. Witness Megan's appearance in a (rather amazing) hot pink, white, and black shift dress as she emerges from Don's office, just in time to make Harry look like even more of a fool. (Though, to be fair, in that crazy checked-jacket-striped-tie combo, he was doing a fine job looking silly on his own.) Minutes later, Peggy emerges in her own version of the colorblock trend: a blue chambray blouse over a darker blue skirt. Later in the episode, the girls are at it again: Megan's in a lemony shift, while Peggy's is hunter green with a red bow tie. (Henceforth, Peggy's shall be known as The Elf Dress.)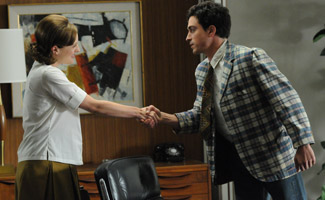 Peggy's Christmas colors made her look like an actual child next to Megan, but they were also pretty funny, considering her big drama revolves around the new Jewish guy in the office. Peggy's interactions with Michael Ginsberg were hysterical, and the costumes dug the line between them even sharper. Peggy wears a plain white blouse during their first meeting, and Ginsberg sits across the table in a blue-and-orange checked jacket, a polka-dotted shirt, and an acid-color paisley tie. (Fashion memo: You will see this exact outfit on your friendly neighborhood hipster in exactly four days.)
Young Ginsberg kicks off a strong style episode for the men, specifically the barbershop quartet of Don, Pete, Roger, and Lane. Look closely and their outfits are almost interchangeable: Each wears a Brooks-Brothers-style shirt. Then Roger gets a vest but no jacket; Don gets a jacket but no vest; Lane has all three; Pete has none. The four of them also sport various shades of gray, at times looking like cigarette ash, or the concrete surrounding them, or the silver they need in their bank accounts. Next to Stan Rizzo in his primary-colored polos, Peggy and Megan in their dueling dresses, and Ginsberg in his pattern explosion, those four men look old. Roger has been set apart even further with his physical placement: Look carefully at Roger in his gray suit, sitting against the black-and-white dots in his office. Thanks to his monotone outfit in front of the wall hanging's optical illusion, he actually looks like the falling man in Mad Men's opening credits. He also looks a bit like a cartoon, stuck inside a comic book world of thought bubbles and dotted backgrounds.
Roger's sad line "I'm tired of holding onto the ledge and feeling some kid's foot on my fingertips" helps reinforce the theme of the generation gap, a cultural fault line that caused quakes throughout the episode. But the Rolling Stones concert was really ground zero for that, with the young actress Hayley McFarland delivering maybe the funniest line so far: "None of you want us to have a good time just because you never did." Clearly, this girl has never met Megan. (Although they may own the same green tank top and "Bump-it" worthy hairspray.) On a personal note, the Stones concert was probably my favorite scene because the teenage girls looked so much like my mom in her high school yearbook photos. In 1967, my mom was a rock-loving kid in New York City, and she has the same name — Bonnie — as Ms. McFarland's Mad Men teen.
Read More