Uncategorized
Q&A – Elisabeth Moss (Peggy Olson)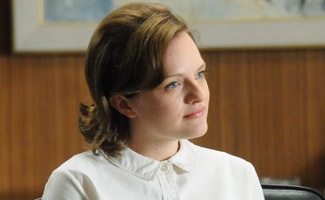 Elisabeth Moss, who plays Peggy Olson on AMC's Mad Men, speaks with AMCtv.com about pranking Jon Hamm and watching Peggy grow over the years.
Q: You and John Slattery tried to prank Jon Hamm when he directed. What happened?
A: I'm interested to hear if Slattery owned up to why it got botched, because it was completely his fault. In all fairness, we did this stupid thing where we tried to do the prank on Hamm and it was the first scene of Season 5 that we shot…and we couldn't remember how to walk and talk and act at the same time.
Q: What was the prank?
A: We were just going to try to speak really quietly so that he'd think that something was wrong with the sound on his headset… I am usually the one that breaks and laughs, but it was John Slattery who couldn't do it. He totally busted and walked away. It all went awry.
Q: What was it like having Jon Hamm direct?
A: One story from when Hamm was directing that's my favorite is when we were doing my scene with Ginsberg — when I interview him. We did several takes and there's a lot going on in that scene, and I was over-thinking it maybe, and [Hamm] came up to me and said, "You're doing great"… He knows me so well that he knows I was starting to go down a path that I shouldn't go down, and that all I needed to know was that I was doing a good job.
Q: Was that scene more difficult because you were introducing a new character?
A: I knew as much about what the relationship was going to be as the audience did… You kind of just have to be the viewer in that sense and not over-complicate it.
VIDEO: Peggy Is Back
Q: Any interest in directing an episode yourself?
A: I'd have to cross that bridge if I ever come to it… It's a lot of pressure and we've been really lucky that the two actors we've had direct have done an incredible job. So it's a lot to live up to.
Q: Peggy's been a rising star since the beginning of the series. Have you changed how you approach the character over the years?
A: I've known Peggy for six years. What's great about that is when I started out I was 23 and now I'm 29, so I've changed a lot in six years. So the sort of melding and blending of you changing and you growing up and the character changing and melding and growing is not an opportunity that you always get… We've never made [Peggy] really different from season to season or been like, oh, now she's wearing pantsuits and bossing everyone around. I think she's changed enormously in the past five seasons. But it's also been very realistic.
Q: And now there's this changing of the guard where Peggy is sort of a young Don Draper…
A: Yeah, remember that wonderful flashback sequence where Don is going after the job with Roger and he's so young and eager and ballsy? He's Peggy!
Q: Was there solidarity between you and January Jones over having to wear a fat suit?
A: I think she might have taken the trump card a little bit. [Laughs] She was dealing with actually being pregnant, not just faking it. We definitely laughed a little bit.
Q: Peggy is advised not to hire Michael Ginsberg because he might end up her boss. Do you think that advice is still relevant today?
A: Absolutely! That's the struggle in any line of work, you want to hire people that are good because they make your work better and they make your job easier. At the same time, there is of course the concern that they could be better and overtake you. That continues to be Peggy's struggle.
Click here to read an interview with Jon Hamm, who plays Don Draper on AMC's Mad Men.
Read More