Uncategorized
1960s Handbook – Chicago Student Nurse Murders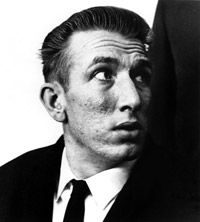 Around dawn on the morning of July 14, 1966, a young student nurse named Corazon (Cora) Amurao screamed out the window of a Chicago townhouse, "They're all dead!" and "I'm the only one alive." "They" were Amurao's eight roommates. Also student nurses, the young women had been bound and then systematically strangled and stabbed by a 24-year-old drifter and thief named Richard Speck (pictured right). Amarao, who hid under a bed, may have survived because Speck lost count of his victims.
Media reports about the horrific crime and the three-day manhunt for Speck captivated the nation. Speck twice eluded police, who in one instance confiscated the gun he'd used to subdue the women but, not realizing who he was, declared him harmless and didn't arrest him. Speck later saw a newspaper story identifying him as the murderer and attempted suicide. A resident at Cook County Hospital notified police after recognizing the "Born to Raise Hell" shoulder tattoo that Amurao had described to the homicide detectives. Years later, the doctor told a reporter that Speck had confessed to killing the nurses while drunk and high on Seconal and other pills, but that because Speck was drugged this statement couldn't be admitted as evidence.
Amurao became the key witness at Speck's trial. Her identification and a bloody fingerprint placed Speck at the townhouse. During his rampage, Amurao testified, Speck had asked one of his victims if she was "the one in the yellow dress," indicating that he'd cased the townhouse and that the crime was premeditated. After a 12-day trial, a jury convicted Speck of all the murders. The Supreme Court overturned his death sentence, but his conviction was upheld.
In an unsettling 1978 video made by fellow prison inmates, Speck describes feeling nothing while murdering the women and expresses no remorse. Speck laughs about the fun he's having and about granting sexual favors to other inmates. However, his prison psychiatrist later noted that Speck had set himself up to suffer the same fate as his victims, theorizing that it might have been a form of self-punishment. The psychiatrist also described Speck as having a "Madonna-prostitute complex," either placing women on a pedestal or reviling them as whores. Speck died of a heart attack in 1991 while still in prison.
Read More