Uncategorized
The Mad Men Fashion File – We Need to Talk About Megan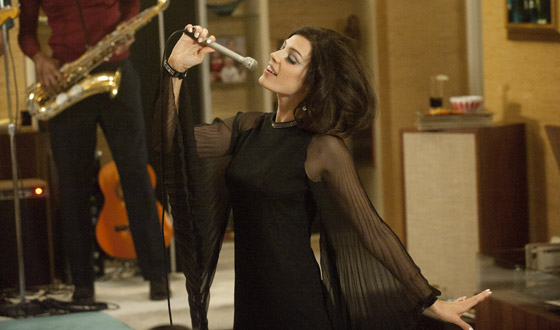 The Season 5 premiere had enough kids to fill a daycare, from the Draper brood to the tiny Kevin Harris and the watchful little boy pelted by water balloons in the opener. There's also Tammy Campbell, who remains unseen but leaves clues to her colicky existence in her parents' outfits: Pete's suit is covered in spit-up, and Trudy — once the show's youthful fashion plate — has traded Pierre Cardin for a giant striped nightie, bed-head, and a face without makeup. (True to Trudy, though, it's still kind of amazing: Her pajamas look like Marimekko, the Finnish textile label made famous in America by Jacqueline Kennedy Onassis, who wore several of their dresses on JFK's campaign trail.)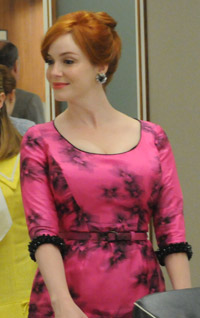 Joan deals with motherhood's considerable challenges as only Joan can: by totally overdressing. Visiting the office, she arrives in a sexy evening dress that practically applauds every time she leans over; at home with Grandma Gail, she conceals her pajamas in an expensive (and curve-enhancing) silk kimono robe. That outfit was one of my favorites, actually — not because it was jaw-dropping like Megan's dress (which I'll get to, don't worry…) but because it seemed to perfectly capture Joan's ambivalence about her new domestic role. Joan is a great employee; Joan also wants to be a great wife and mother. The outer clash of the fancy robe and the nubby PJs mirrors the inner clash of career girl Ms. Holloway and new mom Mrs. Harris. And, so far, she's chosen to wear (and be) both.
Oh, and before we leave the new moms and dads: Did you notice Pete and his friend on the train? Pete had a blue suit with a skinny blue striped tie. The other guy had a brown suit with a skinny brown tie. When the camera panned back, practically every other man on the train was wearing that, too. If Pete fears getting stuck in the monotony of the suburban American dream, those scenes are the realization of his worst nightmare, thanks to the uniform costumes surrounding him.
And now… drumroll… let's talk about Megan, the only woman who's ever made Don proclaim "I don't care about work." We could catalog every single look (The yellow floral shirt! The orange felt jacket! The electric blue Chanel scarf!) but in terms of this week's story, there are two and a half outfits that collide directly with the plot: the Tweet-inducing black mini-dress, the black-and-white polka dot blouse with the pencil skirt, and the black lingerie (which, yes, is our "half" an outfit). I liked the polka dot outfit for two reasons: First, because it's something that's never gone out of style; second, because of Peggy Olson. If Megan is a perfect foil for Peggy, and a deliciously frustrating rival for Don's attention, then her outfit here is kind of the same thing. Look at the two of them together when they're discussing Don's Rolodex: Peggy's in a buttoned-up black dress with tightly controlled white stripes. Megan's in a (literally) unbuttoned white blouse with manic black polka dots spread all over it. The contrast is insane. (On a practical note, if you want a similar top, J. Crew has a work shirt version for $88 and Marc by Marc Jacobs does a silk blouse for $240.)
The black mini-dress — henceforth known as "The Zou Bisou Dress" — is shockingly sexy, which is fine when Don and Megan are in their little bubble, but completely inappropriate when the entire office is watching. Her performance reminds me of when Betty tried to wear a bikini, only to be rebuked by Don's command to put some clothes on. But now, the jagged line between generations and social tribes gets cut faster than birthday cake at this surprise party. The partygoers' costumes are evidence: Megan's diverse friends wear youthquake styles like leather minis and Pucci prints; even Pete wears a colorful plaid jacket. By comparison, Don and Roger look like ghosts in their pale tops, and even though Jane Sterling is the same age as the "kids," in her long swirly evening gown and shimmery lipstick snarl, she looks like the Wicked Queen next to Megan's Snow White. Suddenly at this party, seeing all the grown women in baby doll dresses, the actual babies through this episode make a lot more sense: The generation gap is here, it's huge, and it's not going away.
Click here to read an interview with Jessica Paré, who plays Megan Draper on AMC's Mad Men.
Read More