Press
Mad Men Lands EW Cover; Jon Hamm Entertains on SNL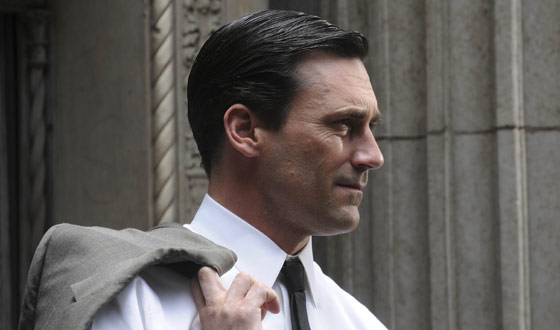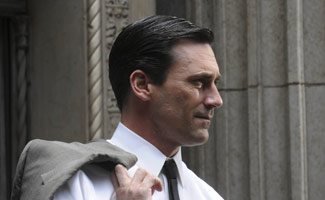 This week, Entertainment Weekly calls Mad Men "TV's best drama," while Jon Hamm's cameo on Saturday Night Live also gets some praise. Read on for more Mad Men news.
• Entertainment Weekly previews Mad Men's Mar. 25 return with a cover story in which Jon Hamm proclaims, "I love going to work…I could play Don for 100 years."
• Reviewing last weekend's Saturday Night Live where he played "back-up host" to Lindsay Lohan, Entertainment Weekly calls Jon Hamm "the current patron saint of SNL hosts."
• TV Guide has a clip from of Hamm revealing himself to be the father of Snooki's baby on SNL — although Hamm admits to New York Magazine that he's never watched Jersey Shore.
• Elisabeth Moss graces the cover of the New York Post's Page Six Magazine and draws parallels between herself and Peggy: "As women in the workplace, we're constantly trying to find a balance between being taken seriously and feeling sexy."
• USA Weekend profiles Jon Hamm, calling him "America's New Most-Wanted Man," while USA Today's style tips include a shirt worn by a "mighty dapper" Hamm.
• GQ interviews John Slattery and calls Roger Sterling "the man we truly yearn to be."
• Meanwhile, New York Magazine presents a new Roger Sterling ice cream flavor, Sterling's Scooper (billed as "top shelf vodka ice cream").
• People has a clip of Jon Hamm on Late Show with David Letterman detailing the various injuries he's received on the Mad Men set.
• Jon Hamm and Jennifer Westfeldt appear on NBC's The Today Show and talk about Friends with Kids. The New York Times and USA Today profile the duo against the backdrop of the movie's themes, while Hamm also appears on Ellen.
• TV Guide [no link] includes Mad Men in its spring preview and quotes series creator Matthew Weiner's advice to "Watch for a power shift."
• New York Magazine theorizes that Mad Men is great because "It observes. It's not about the period, it's about the question mark."
• Mad Men's costume designer, Janie Bryant, tells People her favorite dress on the show is the one Betty wore at her around-the-world dinner party in Season 2.
• The Washington Post reports on Banana Republic launching its new Mad Men collection on a NY-to-LA flight. The Wall Street Journal attended a party previewing the collection at Kiernan Shipka's house.
• New York Magazine sets up a bracket to determine the best TV drama of the last 25 years. Mad Men is up against Lost in the first round.
• In preparation for Mad Men's Season 5 premiere, New York Magazine [no link] provides a "condensed" refresher course for the previous four seasons.
• Matthew Weiner and members of the Mad Men cast, including Jon Hamm, will participate in a New York Times event on Mar. 20 that will be streamed live.
• Members of the Mad Men cast share their favorite scenes with The Huffington Post. Jon Hamm's favorite? The series pilot, "Smoke Gets in Your Eyes."
• Jon Hamm talks superheroes with IFC: "My name has come up in a lot of superhero discussions. It's a tough thing, you know? It's a tough game to get into."
• Christina Hendricks shows up in a V Magazine photo shoot and profile and talks about the doors Mad Men has opened: "I feel like a kid in a candy store and I want to try everything."
• Yahoo! picks up an interview Hendricks did with Hello!, where she reveals that Joan's Season 5 wardrobe is more modern and that "the colour palette and the fabrics change."
• Mad Men is on the ScreenJunkies list of the 10 best TV pilots of the 2000s.
• xoJane.com imagines Don Draper meeting Downton Abbey's Matthew Crawley — and recaps where things stand for Mad Men's characters.
• A clip from January Jones' new film, Seeking Justice, shows up on 411mania.com.
• Deadline presents a trailer for In Our Nature, a new film featuring John Slattery and Zach Gilford (Friday Night Lights), whom Collider.com calls "two of our favorite actors".
• Indiewire lists God Bless America, starring Joel Murray, as one of the most anticipated movies at the SXSW festival.
Read More